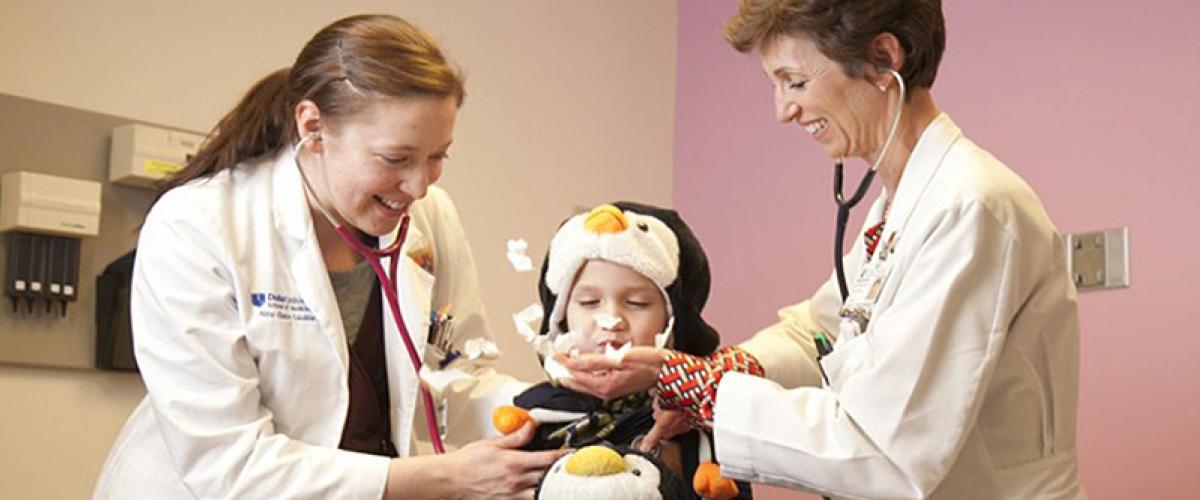 The Department of Pediatrics is committed to providing outstanding education in pediatrics for all medical students.
Students will encounter members of the Department of Pediatrics during first year courses, including the Practice Course. In the second year, all students will spend six weeks rotating through the pediatric clerkship with opportunities to interact with children and families in the clinics and in the hospital. Many faculty members lead active research programs and serve as mentors for third year students. During the final year of medical school, there are electives in almost every aspect of pediatrics. While we recognize that some students will not pursue careers that include the care of children, almost all students will take care of children during their residencies and we want to make sure each student is prepared for that experience. Students are encouraged to contact any faculty members within the department--we would like to get to know you and share our enthusiasm for the care of children.
Learn more about the core pediatric clerkship, as well as some of the other clinical experiences available to second-year students.
Learn about some of the research opportunities in pediatrics available to third year medical students.
Read a brief description of the electives available during the fourth year. 
Find out about student-run Pediatric Interest Group activities and how you can participate. 
Get details about the Visiting Medical Student Program from the Office of the Registrar in the Duke University School of Medicine.
The Duke University Department of Pediatrics is now accepting applications for our underrepresented in medicine virtual visiting student rotation for the 2022-23 academic year. Please follow the link for details. 
Samrat Umasankar Das, MBBS
Director, Pediatric Medical Student Education
Associate Professor of Pediatrics
Division of Hospital Medicine
samrat.das@duke.edu
TBD
Associate Director, Pediatric Medical Student Education
Assistant Professor Pediatrics and Medicine
TBD
Elizabeth Futrell
Undergraduate Medical Education Coordinator
Box 2801 DUMC
Durham, NC 27710
Tel: 919.681.8835
elizabeth.futrell@duke.edu