During the first year, fellows will also be encouraged to begin evaluating the vast basic and clinical research opportunities within their reach. Trainees will have several months to meet and discuss opportunities with numerous excellent mentors.
Prior to year two, fellows will select a research mentor and complete a research proposal. Trainees select their research program from tracks that promote either basic laboratory research or clinical/translational research career paths. We draw mentors from Duke investigators from throughout the Department of Pediatrics. Mentors and mentoring committee members often come from the Division of Pulmonary and Sleep Medicine or the Division of Allergy/Immunology. However, many excellent mentors will be available throughout all pediatric divisions, the Department of Medicine, the basic science departments and from several Duke research institutes. Our division has close ties with the Adult Pulmonary Division, the Children's Health & Discovery Institute, and the Duke Clinical Research Institute.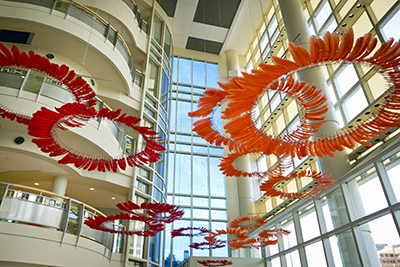 In years two and three, clinical responsibilities are limited to the continuity clinic one half-day per week. Fellows may initiate coursework including degree programs within one of Duke's graduate schools or institutes and are expected to present the results of their research at a national meeting and publish these results.
Research training is closely mentored by the primary research mentor, who meets frequently with the trainee, and by a Scholarship Oversight Committee, which convenes twice per year to review the trainee's research progress and advise the trainee and his/her mentor. The research project should lead to:
Acquisition of research skills;
Presentation of an abstract by the trainee at a national meeting;
Publication of a paper in a peer-reviewed journal, with the trainee as first author.