Welcome from the Vice Chair for Faculty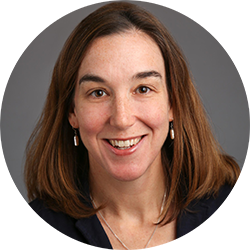 The Duke Department of Pediatrics provides faculty members at all stages in their careers with the tools and opportunities needed to succeed and flourish. 
Our department has a long tradition of excellence that includes outstanding faculty whose individual and collective efforts have created an environment that fosters innovative clinical care, exceptional research productivity, an outstanding training environment, and advocacy for our patients and families.
We seek to recruit, advance, and retain the most exceptional faculty by creating a collegial, intellectually exciting, diverse and supportive environment in which to work. To accomplish these goals, we are dedicated to:
Promoting a positive and equitable work climate that supports our faculty's growth, development and wellbeing and promotes healthy and open interactions with each other;

Enhancing career development by tapping into the innate skillsets and interests of our faculty and promoting excellence in these domains;

Supporting leadership development by encouraging current and future leaders to identify their personal leadership style, challenge their current assumptions, and embrace a growth mindset as they embark on their leadership development.
There are many resources within the department and the School of Medicine to help you achieve your personal and professional goals, and we have outlined and linked to many of these on these pages. In addition to these resources, the department is always here to support individual needs--we are committed to helping faculty succeed, and we look forward to working with you!
Kathleen Wurth Bartlett, MD
Professor of Pediatrics
Chief, Division of Hospital Medicine
Vice Chair for Faculty