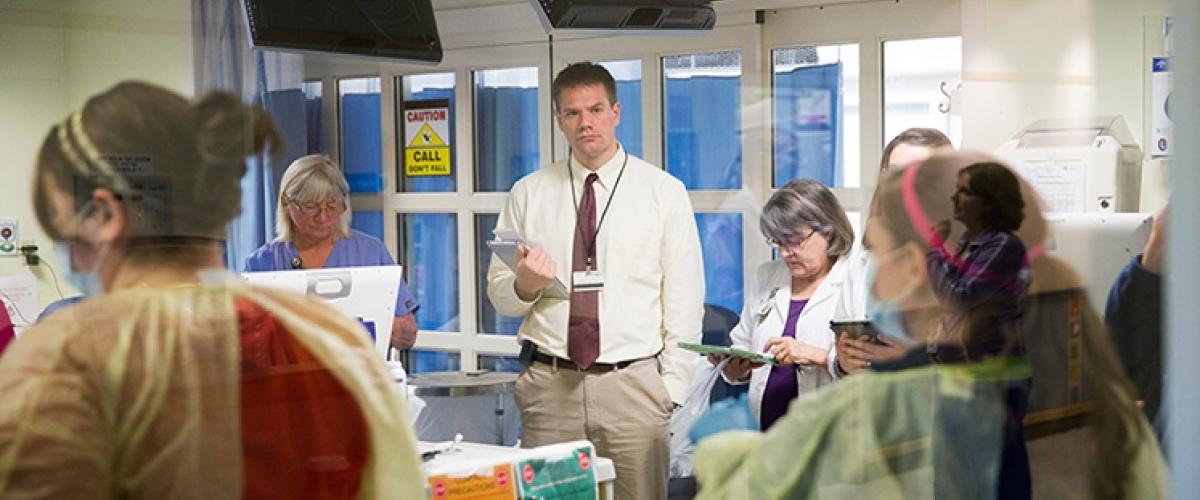 Department of Pediatrics Opportunities
Duke Pediatrics Leadership Development Initiative
With departmental support from Ann M. Reed, MD, chair of  the Department of Pediatrics, the Duke Pediatrics Leadership Development Initiative (DPLDI) is a pilot program geared to offer professional development opportunities and networking to the division chiefs and other department leaders. The goal is develop leaders who are equipped to navigate the challenges in academic medicine, ensuring that current and future generations of physicians are able to adapt to multiple challenges, including lack of funding, a workforce at a high risk of burnout, and an ever-changing reimbursement landscape. Our ultimate goal must be a productive, creative, and fulfilled workforce that advances the field and improves the health and wellbeing of the patients and families we serve.
Session 1: You're It! Crisis, Change and How to Lead When It Matters Most. Meta-Leadership for Health Care...As It is Evolving (Part 1)
Leonard Marcus, PhD
December 14, 2020
For additional information, please contact mara.becker@duke.edu.
Session 2: You're It! Crisis, Change and How to Lead When It Matters Most. Meta-Leadership for Health Care...As It is Evolving (Part 2)
Leonard Marcus, PhD
March 4, 2021
For additional information, please contact mara.becker@duke.edu.
[​Future sessions will be added when scheduled.]
School of Medicine Opportunities
The ADVANCE-UP (Academic DeVelopment, Advocacy, Networking, Coaching and Education for Underrepresented Populations​) program aims to provide unique enrichment activities designed to focus on challenges underrepresented racial and ethnic faculty (UREF) encounter in academic medical centers. ADVANCE-UP ultimately seeks to create a network of scholars that will enhance the sense of community among underrepresented faculty, foster timely promotion, and increase representation in leadership positions. 
The Office for Faculty offers the ALICE program, a leadership development opportunity for mid-career women faculty in the School of Medicine. ALICE (Academic Leadership, Innovation, and Collaborative Engagement) provides in-depth opportunities for leadership skill development, personal reflection and goal setting, peer-mentoring, and structured 360 feedback.
The Duke Clinical Leadership Program (DCLP) provides faculty with an opportunity to deepen their awareness of healthcare operations and to develop relevant leadership skills. The program is run by the School of Medicine Office for Faculty with the support of Chancellor Eugene Washington. Program fellows are introduced to leaders from the Health System, School of Medicine, School of Nursing and Fuqua School of Business.
Financial Boot Camp is a multi-part series designed to help faculty understand core finance issues with a focus on medical school economics. Sessions illuminate the challenges involved in financing a complex academic health center, and managing the priorities of the school, the hospital, and the provider practice. The goal of the Boot Camp is to help build awareness of how administrators evaluate new programs and personnel from a financial perspective and to empower faculty to be fully engaged in discussions about finances at the program, department, and school levels.
This interactive 3-part workshop is designed for junior faculty who are leading a research group. It will provide insight into leadership and team building as well as direction on how to develop and manage a scientific laboratory or research program, how to improve productivity, and how to harness creativity and innovation. It will provide tools to use in navigating conflict with confidence. This course provides a unique opportunity to work with a diverse and multidisciplinary group of faculty and to network with other researchers from across the university.
Making the Case is a hands-on, interactive program to learn skills needed to transform an idea into a proposal. Over the course of three sessions you will develop or refine a business plan for your own idea, get feedback on stakeholders to engage and questions to ask, and practice pitching your proposal to a panel of mock judges. Past project examples include starting a new program, implementing a clinical redesign effort, launching a new division or center, or proposing a new system-wide workflow redesign. Sessions will include guidance on how to use and manipulate data using excel.
Duke Human Resources Opportunities
These workshops provide Duke managers and leaders with critical skills for effectively managing the recruitment, performance, development, and retention of Duke employees. You can register for classes through the Duke Learning Management System (LMS).
External Opportunities
Leadership development has never been more essential to anticipating, navigating, and solving the complex challenges facing today's medical schools and teaching hospitals. Whether you are an executive-level leader, new to a leadership position, or in a role where you want to make a difference in your community and profession, the AAMC can help you prepare to lead yourself, your team, and your organization into the future.
The ECPE provides executive education and continuing education courses that encourage leadership development and provide the knowledge and skills you need to improve organizational performance. Our portfolio of executive education programs within Hospital and Health Care Administration includes:
Leadership Strategies for Evolving Health Care Executives
Leading in Health Systems
Emerging Women Executives in Health Care
Program for Chairs of Clinical Services