Welcome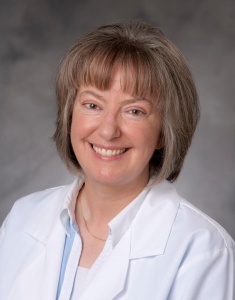 Welcome to the Medical Genetics and Genomics Residency program, based in the Division of Medical Genetics within the Department of Pediatrics at Duke University. The objective of the program is to foster the development of physicians who are both excellent clinicians and investigators in the arena of medical genetics and genomics.
The Medical Genetics and Genomics Residency program is open to MD applicants who have completed a minimum of one year of residency in an ACGME-accredited program (usually pediatrics or internal medicine, although other disciplines may also be acceptable). The program duration is two years with 18 months of clinical training. Residents have ample world-class opportunities for training in the clinical, laboratory, translational, and research realms of medical genetics and genomics. Upon completion of the program, residents are certified by the American Board of Medical Genetics and Genomics (ABMGG).
The Division of Medical Genetics provides comprehensive clinical genetics services across the age spectrum including diagnostic, management, and genetic counseling services for patients and families with genetic disorders. Trainees participate in the inpatient service and outpatient specialty clinics, including Medical Genetics, Metabolic, Autism, Down Syndrome, Fragile X Syndrome, 22q11 Deletion Syndrome, and the Duke Genome Sequencing Clinics, ensuring an extremely broad and diverse clinical experience. In addition, trainees rotate through the biochemical genetics, cytogenetics, and molecular diagnostic laboratories; take a graduate level course in Human Genetics; and participate in educational activities for trainees at the division, departmental, and institutional levels.
This clinical strength is coupled with multiple internationally-recognized translational and basic science research initiatives that are well funded by private, corporate, and government sponsors and cover areas such as Enzyme Replacement Therapy (ERT) for Lysosomal Storage Diseases (LSDs), molecular and clinical characterization of Glycogen Storage diseases (GSDs), gene therapy, animal models, translational research, and the Undiagnosed Disease Network (UDN). Trainees have protected time to participate in research projects.
Marie McDonald, MD, FACMG
Program Director
marie.mcdonald@duke.edu
Program Overview
Positions offered per year: One
Current number of fellows: One
Program duration: Two years
Accrediting body: Accreditation Council for Graduate Medical Education
Additional affiliation: American Board of Medical Genetics and Genomics (ABMGG)
How to apply  
To apply, please submit your CV, personal statement, and three letters of recommendation to Program Director Marie McDonald at marie.mcdonald@duke.edu.
If your graduate degree was obtained outside of the U.S., you will also need to submit a Credential Evaluation letter from the ABMGG.
All applications are considered without regard to race, religion, gender, or national origin.
Program Coordinator   
Elizabeth Sasser
Program Coordinator
DUMC Box 102509
Durham, NC 27710
919.681.9140
elizabeth.sasser@duke.edu
Program Director    
Marie McDonald, MD, FACMG
Program Director, Medical Genetics and Genomics Residency Program
DUMC Box 103857
Durham, North Carolina 27710
919.684.2036
919.684.8944 fax
marie.mcdonald@duke.edu
Current Trainees
Second Year 
Benjamin Cocanougher, MD, PhD

First Year 
Neelam Makhijani, MBBS
For more information on fellowship programs in Medical Genetics and Genomics, please visit:
Diversity and Inclusion
At the Duke Department of Pediatrics, we believe that diversity and inclusion are key drivers of institutional excellence that can accelerate our ability to innovate and solve complex problems. The department is committed to developing and implementing strategies to foster a culture of inclusion in which highly qualified students, faculty and staff from diverse talent pools experience a genuine sense of belonging, engagement and achievement.  
The Duke University School of Medicine has been nationally recognized for its commitment to diversity and inclusion. Watch this short video to learn more about this commitment.