Duke University Medical Center is a world-renowned institution offering a unique training experience in child neurology. Our residency is a three-year ACGME accredited training program in Neurology with Special Qualification in Child Neurology.
Our program offers exceptional training across all aspects of neurology. The first year is comprised of adult rotations during which the resident learns the fundamentals of the clinical neurological examination and diagnosis, appropriate use of diagnostic techniques, and overall management of neurological disease. Clinical rotations include inpatient neurology wards, inpatient neurology consults, neuro intensive care, and outpatient neurology clinics (both general neurology and subspecialty clinics in sleep, epilepsy, and movements disorders).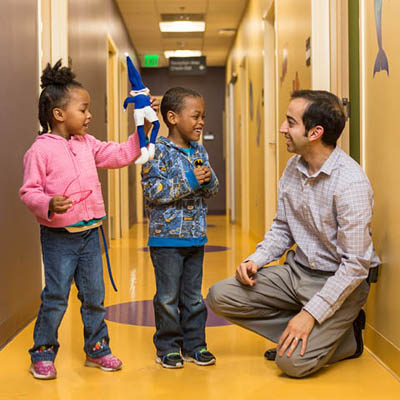 The second and third years of the residency are dedicated to child neurology and clinical neuroscience electives. Core rotations include inpatient consult service, inpatient epilepsy monitoring service, ICU service, and outpatient clinics including pediatric subspecialty clinics in epilepsy, neuromuscular disease, headache, cerebral palsy, autism, sleep, concussion, and tuberous sclerosis. Our program benefits significantly from our Bone Marrow Transplantation Unit which offers our residents unique exposure to many of the rare neurodegenerative disorders being evaluated for transplant. 
Clinical neuroscience electives are available in child psychiatry, neuro-oncology, genetics and metabolism, electroencephalography, epilepsy, movement disorders, electromyography, neuromuscular medicine, neuroradiology, neurodevelopment and behavior, neuropathology, neuro-ophthalmology, sleep, and intraoperative monitoring. A designated research rotation is required early in the second year with the goal of designing a research project to be worked on throughout the last two years of training. This rotation includes a series of didactic lectures on study design and biostatistics. Opportunities for a basic science research elective are also available to interested residents.  
Our program offers an academically rich environment with multiple didactic conferences available for our residents to attend including: Basic Neuroscience Series, Pediatric Neurology "Boot Camp" series, adult neurology grand rounds, pediatrics grand rounds, neuroradiology case conference, epilepsy surgery conference, adult neurology morning report, pediatric interest case conference, journal club, clinical neurophysiology conference, muscle pathology conference, stroke Conference, neurobehavioral Conference, and pediatric neurology noon conference. Every effort is made to assure that clinical duties do no encroach on routine teaching activities.
Our residents also gain valuable experience in teaching and leadership throughout their training. As the residents advance in their training, they become more involved with the teaching of the rotating adult neurology and pediatric residents, as well as medical students. Several formal didactic lectures and Neuroscience Grand Rounds are given by our residents throughout their last two years. 
There are many research opportunities available to the child neurology residents in our program. The division is actively involved in research collaborations with our Neonatal Intensive Care Nursery, NIH Undiagnosed Disease Network, Pediatric Intensive Care Unit, Bone Marrow Transplant Unit, Department of Neurobiology, Division of Genetics and Metabolism, and the Division of Neuroradiology, as well as the Duke Brain Imaging and Analysis Center, the Duke Institute for Genome Sciences and Policy, the Duke School of Engineering, and the Duke Clinical Research Unit. Multiple research opportunities for our residents exist during their training and beyond.
If you have additional questions, please contact:
Latoya Burgess
Program Coordinator
latoya.burgess@duke.edu
Carolyn Pizoli
Program Director
carolyn.pizoli@duke.edu
Sujay Kansagra, MD
Associate Program Director
sujay.kansagra@duke.edu