| Name | Graduation Year | Current Institution |
| --- | --- | --- |
| Kathleen Wood | 2023 | Duke Advanced Imaging/Research Fellow |
| BriAnna Souder | 2023 | Texas Children's Hospital Advanced Imaging/QI Fellowship |
| Ashley Dischinger | 2022 | Duke University |
| Elizabeth Thompson | 2021 | Duke University, Critical Care Fellow |
| Merick Yamada | 2021 | Medical City, Dallas, TX |
| Alice Chan | 2021 | East Carolina University |
| Jordan Ezekian | 2021 | University of Texas-Southwestern |
| Reid Chamberlain | 2021 | Duke University |
| Jason Williams | 2020 | Duke University |
| McAllister Windom | 2019 | Duke University |
| Andrew McCrary | 2019 | Duke University |
| M. David Weiland | 2018 | Oschner Medical Center |
| David Bearl | 2017 | Vanderbilt University |
| Andrew Dodgen | 2017 | Sibley Heart Center |
| Rachel Torok | 2017 | Children's Hospital of Pittsburgh |
| Ololade Akintoye | 2016 | Arnold Palmer Hospital for Children  |
| Bijoy Thattaliath | 2015 | University of Iowa |
| Sarah Plummer | 2015 | Rainbow Babies Children's Hospital |
| Andrea Kropf | 2015 | Sibley Heart Center |
| Elliot Pearson | 2015 | Niklaus Children's Hospital |
| Venugopal Amula | 2014 | University of Utah |
| Sihong Huang | 2014 | Helen Devos Children's Hospital |
| Robert Tunks | 2014 | Penn State University |
| Dan Forsha | 2014 | Mercy Children's Hospital |
| Christoph Hornik | 2013 | Duke University |
| Robert Bishop | 2013 | Children's Hospital of Colorado |
| Brent Carothers | 2013 | CMG Stoorbants Cardiovascular Center |
| Jason Johnson | 2013 | Lebonheur Children's Hospital |
| Chad Stewart | 2012 | Children's Hospital of Colorado |
Featured Past Fellows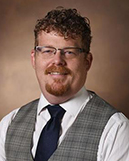 David Bearl, MD, MA
I had the opportunity to pursue the Master of Arts in Bioethics and Science Policy within Duke Science and Society in my third year of Pediatric Cardiology Fellowship after receiving a Merit Scholarship from the Duke Graduate School. The course explored the intersection of ethics, law, science and public policy. I had opportunities to work with ethicists, lawyers, politicians and basic scientists broadening my view of how medicine in applied. I was able to focus on how science and technology affect public policy, which in turn sets up ethical quandaries at both systemic and individual levels. I completed my coursework with a master's thesis entitled Making Biomarkers Great Again – Requiring a Threshold of Validity for Surrogate Endpoints on Ethical Grounds. Overall, it was an excellent experience and gave me a foundation to continue ethical discussions within the heart failure and transplant literature, as well as joining the OPTN National Ethics Committee.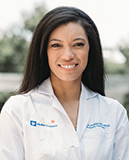 Jordan Ezekian, MD, MPH
My interest in sudden cardiac death prevention and experience serving as the Co-Medical Director of Project ADAM, a school-based advocacy initiative of the Duke PCHC, led me to apply for the 2-year Duke/NIH TL-1 Physician Research Fellowship with the Duke Clinical and Translational Institute. My translational research in the Landstrom laboratory explores the genetic and molecular basis of cardiovascular disorders and sudden death in children using human induced pluripotent stem cell and murine models. Additionally, I have received a research award through Colin's Kids to establish a multidisciplinary team of researchers at Duke to analyze NIH database genomic data to address important knowledge gaps in our understanding of the genetic basis of congenital cardiac disease. The pediatric cardiology program and the resources available to physician scientists at Duke has allowed me the flexibility and support to design a unique experience tailored to my career goals.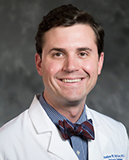 Andrew McCrary, MD, MS
Shortly after starting my pediatric cardiology fellowship, I applied for the Duke Global Health Pathway for Fellows to become a part of my fellowship. After completing my first clinical year of fellowship, I entered into the Global Health Pathway, which included completion of a Duke Graduate School Master of Science in Global Health degree and 11 months of research and clinical work in Kenya. After completing the Global Health Pathway, I returned to finish my final year of pediatric cardiology. Duke's pediatric cardiology program was flexible helping me achieve all of my academic interests combining global health and pediatric cardiology training.