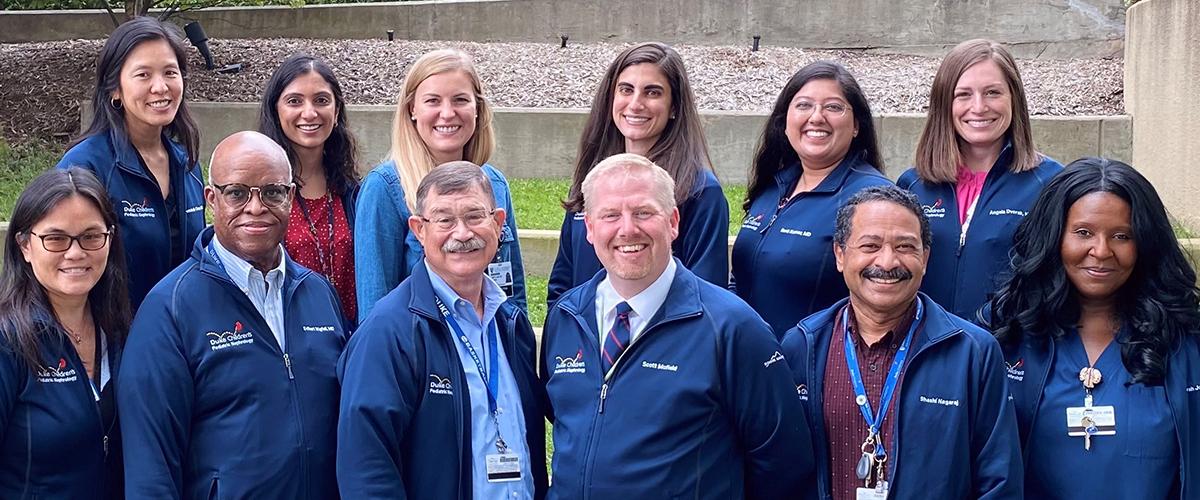 The Duke Pediatric Division of Nephrology has a three-year fellowship program that is fully accredited by the American Council of Graduate Medical Education (ACGME).
The Duke Pediatric Division of Nephrology has a three-year fellowship program that is fully accredited by the American Council of Graduate Medical Education (ACGME).
Our goal is to train the next generation of physicians who are outstanding clinicians, excellent medical educators, future physician-scientists, and academic leaders in pediatric nephrology. Therefore, our central teaching principles and values use the mnemonic of the very organ we oversee RENAL: Respect diversity, Excellence in all aspects of education and research, Nurturance and mentorship, Altruistic and compassionate care, and Leadership for today and tomorrow.
Our division is actively engaged in multiple clinical and basic/translational research projects, is involved in national consortia and holds a number of grants.
Current Fellowship Opportunities
Clinical Training
During the first year, the pediatric nephrology fellow has primary responsibility for managing the inpatient team and consult service. The fellow directly supervises the pediatric residents and medical students on the Nephrology elective. Rounds are made with experienced faculty on a daily basis. To complement this comprehensive inpatient experience, the fellow will also participate in our robust outpatient program including their own continuity clinic as well as clinics in fields spanning general nephrology, dialysis, transplant, chronic kidney disease, hypertension with ambulatory blood pressure monitoring, SLE, tuberous sclerosis, outreach and urology.  It is during this year that the fellow acquires the majority of the clinical skills and expertise required to practice effectively and independently. During this year, the fellow also will start to develop a research interest and hone their grant writing skills. 
During the research years of the program, clinical duties are reduced to allow focus on academic endeavors. During the second and third years, the fellow spends 80% of their time in research and 20% in clinical duties. Fellows continue to maintain their continuity clinic during second and third years. While on service, fellows are afforded increased autonomy appropriate with their level of training so that they may build on their independent practice skills.
Research Opportunities
The primary focus of the second and third years is research, and the fellows are expected to develop a research program of their choosing in either the basic, translational, or clinical sciences, in collaboration with a faculty mentor. The division faculty have diverse expertise in a variety of research areas as described in Program Details. Additionally, there are many faculty mentors outside of the division who engage in kidney disease associated research. At Duke, we foster an environment of collaboration, learning, and discovery. We provide a core research curriculum and educational opportunities that will prepare the fellow to become an independent investigator. Below are the numerous training grant opportunities at Duke that you will be mentored successfully to apply for and obtain:
Physician Scientist Development Program (PSDP)
Duke Children's is nationally ranked among the top 50 nephrology programs in the nation by U.S. News & World Report for 2022-23.
Mentoring Program
A mentoring committee will be identified for all incoming first-year Pediatric Nephrology fellows comprised of one member from the Nephrology Division and two faculty members from other divisions within the Department of Pediatrics, Internal Medicine or Surgery. The committee will be developed in cooperation with the Fellow-In-Training, Pediatric Nephrology Division Chief, and Faculty. Research mentors will be assigned based on the trainee's specific clinical and academic interests, personal and professional goals, and previous research experience. Mentors will be identified based on a proven record of investigative, educational, and clinical excellence. One faculty member of the mentorship committee will be designated committee chair and will take a leadership role in assuring that the committee operates productively and is of appreciable benefit to the Fellow-In-Training.
Program Overview
Positions offered per year

: One

Program duration

: Three years

Accrediting body

: Accreditation Council for Graduate Medical Education (ACGME)

Match participation?

: Yes
Contact person
Latoya Burgess
Fellowship Program Coordinator
2400 Pratt Drive
Box 102509 DUMC
Durham, NC  27710
919.681.4658
latoya.burgess@duke.edu
How to apply
Apply through Electronic Residency Application Service (ERAS)
Program director
Reeti Kumar, MD
Assistant Professor of Pediatrics, Division of Nephrology
Medical Director of Creekstone Clinic
Program Training Director, Pediatric Nephrology Fellowship 
Box 3959 DUMC
Durham, NC 27710
919.684.4246
reeti.kumar@duke.edu
Associate program director
Eileen Tsai Chambers, MD
Associate Professor of Pediatrics, Division of Nephrology and Surgery
Medical Director of Duke Pediatric Kidney Transplant Program
Associate Program Training Director, Pediatric Nephrology Fellowship 
Box 3959 DUMC
Durham, NC 27710
919.684.4246
eileen.chambers@duke.edu
Current Fellows
Third Year Fellows
Loryn Wilson, MD
Second Year Fellow
Anna Williams, MD
First Year Fellow
Jennifer Varner, MD
Past Fellows and their Current Positions
​Adam Bensimhon, MD (Pediatric Nephrologist at Dartmouth)
Mital Patel, MD (Pediatric Nephrologist at Brenner's Children Hospital, Atrium Health Wake Forrest Baptist)
Related Resources
We invite you to discover your own future potential for growth, achievement, and professional satisfaction by investigating the possibilities at Duke.