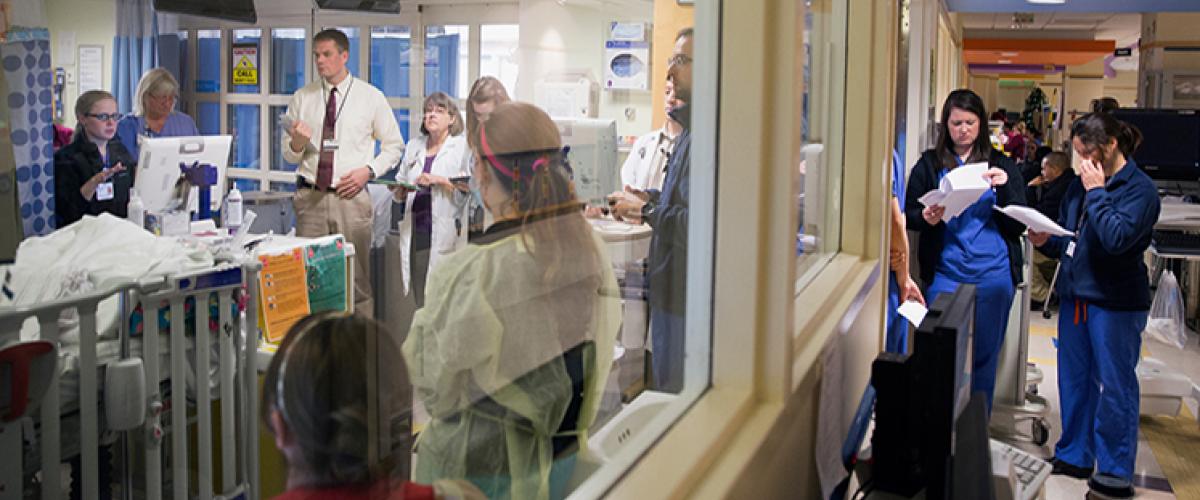 The Pediatric Critical Care Fellowship at Duke University Medical Center is a three-year program accredited by the American Committee on Graduate Medical Education (ACGME) which is designed to provide outstanding clinical and research training in Pediatric Critical Care Medicine.
Exposure to patient care of cardiac patients as the frontline provider is an important part of the clinical experience at Duke. Fellows spend five months caring for these patients in a high volume, high acuity environment. In June 2022, the program was named by U.S. News & World Report's Best Children's Hospitals as #1 in North Carolina and #7 in the United States for Pediatric Cardiology and Heart Surgery. Learn more.
The first year of fellowship is predominantly clinical with in-depth exposure to a broad range of critically ill medical and surgical patients. The program at Duke is one of the few academic programs where the critical care fellows manage all medical and surgical ICU patients (multidisciplinary, cardiac, and ECMO).
The second year of fellowship is primarily dedicated to research activities with reduced clinical responsibilities.
The third year offers flexibility based on the individual's interests and includes clinical activities with increased supervisory roles, opportunities for clinical electives, and additional protected research time to complete research projects and prepare scientific manuscripts.
Pediatrics moved into a newly constructed building, Duke Central Tower, in December 2021. Both the Pediatric ICU and Pediatric Cardiac ICU relocated into expanded, state-of-the-art, 20-bed units.
Program Overview
Positions offered per year: Three
Program duration: Three years
Accrediting body: Accreditation Council for Graduate Medical Education (ACGME)
Match participation?: Yes
Contact person    
Elizabeth Sasser
Program Coordinator
DUMC Box 102509
Durham, NC 27710
919.684.9140
elizabeth.sasser@duke.edu
How to apply   
Electronic Residency Application Service (ERAS)
Program director    
Omar Alibrahim, MD 
Associate Professor of Pediatrics
Director, Pediatric Critical Care Medicine Fellowship
Medical Director, Pediatric Intensive Care Unit
DUMC Box 3046
Durham, NC  27710
919.681.3550 (tel)
919.613.2364 (fax)
omar.alibrahim@duke.edu 
Associate program director    
Jennifer Sherwin, MD
Assistant Professor of Pediatrics
Associate Director, Pediatric Critical Care Medicine Fellowship
DUMC Box 3046
Durham, NC  27710
919.681.3550 (tel)
919.613.2364 (fax)
jennifer.sherwin@duke.edu
Current fellows    
Third Year
Leonid Bederman, MD
Matthew Foglia, MD, PhD
Elizabeth Thompson, MD
 
Second Year
Makenzie Hamilton, DO, MA
Jacqueline Jones, MD

First Year
Calisha Allen, MD 
Marybeth Burriss-West, MD
Vanessa Ford, MD
Ryan Sutyla, MD