The fellowship program provides extensive experience in all aspects of pediatric critical care.
Over 1,500 patients are admitted each year to the 16-bed Pediatric Intensive Care Unit (PICU) and 16-bed Pediatric Cardiac Intensive Care Unit (PCICU), both state-of-the-art facilities within Duke Children's Hospital. The fellows are directly involved in the management of all critically ill medical and surgical patients, including supervising pediatric residents and working in a multidisciplinary environment with the pediatric surgical subspecialists. Fellows are exposed to advanced technologies available for monitoring respiratory, cardiovascular and neurological function including advanced respiratory mechanics monitoring and capnography for ventilated patients, invasive cardiac monitoring, and intracranial pressure monitoring. Highly specialized technologies are available including extracorporeal membrane oxygenation (ECMO) for neonatal and pediatric respiratory failure, left ventricular assist devices for cardiac failure, high frequency ventilation (oscillation and jet), inhaled nitric oxide, continuous hemofiltration, and hyperbaric oxygen therapy.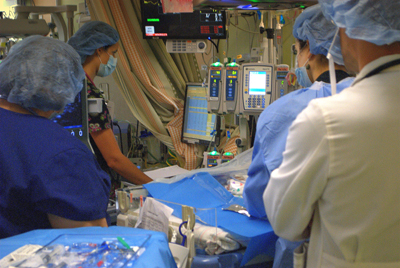 In addition to gaining well-rounded expertise in the medical management of critical illnesses, fellows are actively involved in the management of critically ill pediatric surgical patients. All pediatric surgical subspecialties are represented in the Department of Surgery including cardiovascular surgery, neurosurgery, general surgery, pediatric otolaryngology, orthopedics, ophthalmology, transplant, and plastic surgery. Neonates with complex congenital heart disease are admitted pre-operatively to the PCICU, and cardiovascular patients are managed in the PCICU in the post-operative period. Over 300 pediatric and neonatal open heart surgeries are performed each year. Multidisciplinary rounds consisting of the cardiovascular surgeons, cardiologists, and pediatric critical care team facilitate the care of the cardiac patients within the PCICU.
The faculty of the Division of Pediatric Critical Care Medicine is comprised of twelve board certified/eligible pediatric intensivists and pediatric cardiologists with intensive care training. The PICU and PCICU team is comprised of a broad range of healthcare professionals including board certified/eligible pediatric intensivists, pediatric critical care fellows, highly skilled and specially trained critical care nurses and respiratory care practitioners, residents, medical students, social workers, physical and occupational therapists, chaplains, discharge planners, clinical nutritionists, and clinical pharmacists. All medical and surgical subspecialties are readily available to provide consultation as needed. The PICU and PCICU care delivery model supports the entire team's commitment to utilizing their specialized skills to meet our patients' needs in a family-centered care environment.
The fellows gain a strong foundation in the management of the critically ill pediatric patient during the first clinical year. First year rotations in anesthesiology and cardiovascular surgery provide additional training in airway management and operative approaches to congenital heart disease. Time is available during the third year for a broad variety of clinical electives, including (but not limited to) bronchoscopy, anesthesiology, cardiac catherization, and echocardiography.