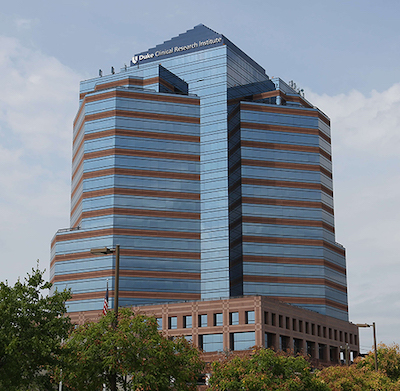 The major focus of the clinical research experience at Duke is to learn how to design a hypothesis-driven research project, acquire the necessary skills to collect and record data, conduct analyses to test the hypotheses, and present the work, all under the guidance of outstanding mentors. Fellows are taught a rigorous and structured methodological approach to clinical research that enables them to design and coordinate complex and multi-center clinical studies that yield results changing clinical practice. Our fellows have been highly successful presenting their work at national meetings and publishing their research findings in high-impact journals. In addition, our fellows have been recognized for the quality of their research with awards at national and regional meetings and local research symposia.
The Department of Pediatrics at Duke University Medical Center includes outstanding faculty and staff whose combined efforts result in exceptional research productivity and an outstanding research training environment for fellows. The department has more than 200 primary faculty from 18 divisions and is ranked #2 nationally in NIH funding for pediatric clinical science departments with nearly $75 million in 2020. 
All Duke pediatric ID fellows are exposed to clinical research through the Department of Pediatrics' Fellowship Core Curriculum that provides an introduction to important clinical research skills, including biostatistics, study design, and basic analytical techniques. Fellows who choose to pursue clinical research as the primary focus of their research training are eligible to participate in the Duke Clinical Research Institute (DCRI) Research Fellowship Training Program. The DCRI is the world's largest academic clinical research organization and comprises the main clinical research arm of Duke. The DCRI combines the clinical expertise and academic leadership of a premier teaching hospital with the full-service operational capabilities of a major contract research organization. Founded in 1987, the DCRI employs over 1,100 faculty and staff capable of conducting any clinical research project, from small pilot studies to international multi-center trials. Cumulative DCRI expertise extends from Phase I to Phase IV trials, post-approval analyses, and health economics. Among the DCRI's accomplishments are the enrollment of >1 million patients in over 40,000 studies in 65 countries and the generation of over 8,000 peer-reviewed publications.
The DCRI has a significant pediatric ID research program in place. One of our division faculty members, Daniel Benjamin, MD, PhD, MPH, is the Deputy Executive Director of the DCRI and works closely with many pediatric ID fellows who focus on clinical research. Additionally, another division member, Michael Cohen-Wolkowiez, MD, PhD, is the Director of the DCRI Pharmacometrics Center, which provides clinical pharmacology support and training for Duke investigators conducting clinical trials, and the Director of the CTSA Small Trials Program, which provides the operational infrastructure to conduct clinical trials of less than 100 patients.
Dr. Benjamin oversees the $95M NIH-funded Pediatric Trials Network (PTN), which is a unique alliance of clinical research sites across the US that cooperate in the design and conduct of pediatric clinical trials. The PTN is currently conducting over 25 trials across the country, including several with an infectious diseases focus. The PTN is a one-of-a-kind organization that is actively working to change the face of pediatric research by establishing a unique infrastructure for training and mentorship in clinical trials. As a benefit to our fellows, the PTN national coordinating center is at Duke Children's, allowing additional clinical research experiences and exposure for our fellows. Several of our past and current fellows have been integrally involved in the PTN, learning operational clinical trial skills during their fellowships.
Dr. Benjamin is also one of the principal investigators for the $157M NIH-funded Environmental Influences on Child Health Outcomes (ECHO) initiative.
This program integrates data from several longitudinal cohorts that will include more than 50,000 children from diverse backgrounds across the US. These cohorts follow children from birth through adolescence with the goal of identifying the early life influences that impact key child health outcomes, including respiratory health, obesity, and neurodevelopment. The DCRI is the coordinating center for this initiative, making these data uniquely available to Duke fellows with a clinical research interest.
For fellows interested in the growing field of pediatric pharmacology research, Duke has one of the nation's only pediatric pharmacology development programs. Other opportunities for collaboration abound in a wide variety of areas, including biodefense, emerging infections, and large-scale clinical trials with the DCRI as well as other divisions within the Department of Pediatrics.
Duke is also a leader in studies of COVID-19 in children. The ABC Science Collaborative, which is co-led by Daniel Benjamin, MD, PhD, MPH, is an NIH-funded program that pairs scientists and physicians with school and community leaders to help understand the most current and relevant information about COVID-19. The program helps school leaders make informed decisions about returning to school using data from their own communities. The Duke BRAVE Kids Study – led by division faculty members Matthew Kelly, MD, MPH and Jillian Hurst, PhD – is one of the key biorepository studies established by the Duke University School of Medicine early in the COVID-19 pandemic. To date, this study has collected clinical data and linked biospecimens from nearly 500 children and adolescents with acute SARS-CoV-2 infection or exposure. This study aims to understand the biological or immunological factors that account for the differences in SARS-CoV-2 susceptibility and severity that exist by age.
Fellows also have the opportunity to conduct their scholarly work with independent research faculty from within our division or across the institution. Current and recent fellows have completed fellowship clinical research projects focused on infections in immunocompromised hosts, the microbiome, host-pathogen interactions, and HIV/AIDS.