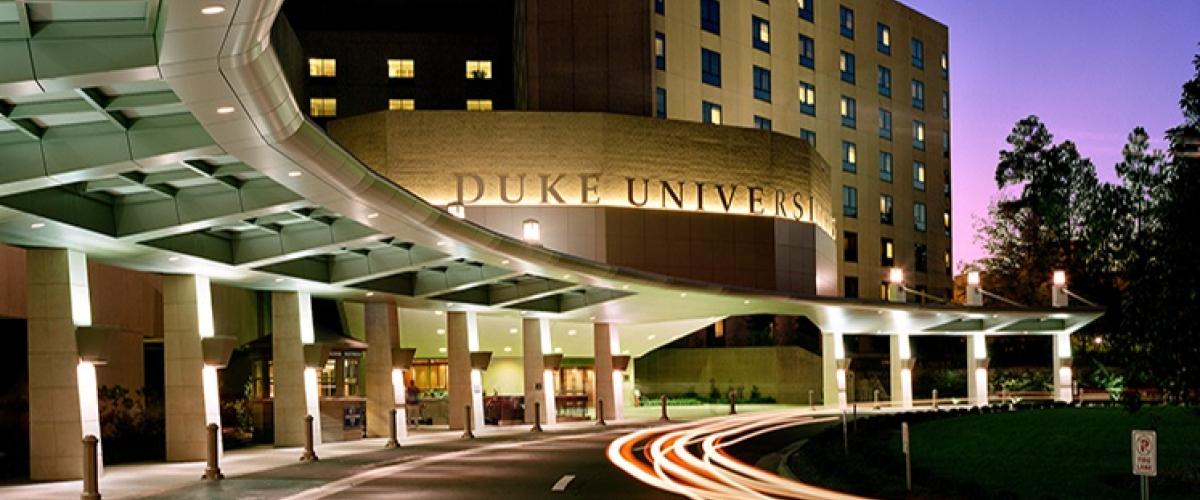 At Duke University, the priority for fellowship training is to develop outstanding pediatric infectious disease specialists who will be future leaders in the field.
The breadth and depth of our division, department, and the institution enable us to develop training plans that are customized to the unique needs and career goals of each fellow. A major goal of our division is to train the next generation of independent pediatric physician-scientists, whether that be in basic science, clinical, or translational research. Our program also provides an excellent training environment for fellows who plan to pursue a clinical career in pediatric ID or an academic position in antimicrobial stewardship, hospital epidemiology and infection control, or medical education.
Duke University is one of the leading medical centers in the world, providing a diversity of patients and specialized training experiences to our fellows. The first year of our fellowship program is focused on clinical training. During this year, fellows have primary responsibility for managing patients on the two inpatient consult services. Unlike many subspecialty consult services, our teams are truly fellow-driven. This means that our fellows are given substantially more autonomy than pediatric ID fellows at most other medical centers and become comfortable making complex medical decisions related to the care of children with infections during fellowship. We are one of the few pediatric ID divisions that has a dedicated transplant ID service, which is staffed by two full-time clinical faculty. During the first year, fellows rotate between the general pediatric ID service and the pediatric transplant ID service. First-year fellows also complete a rotation in the clinical microbiology laboratory and receive focused instruction in antimicrobial stewardship and infection control.
Although there are many fellowship programs that provide high-quality clinical training in pediatric ID, few provide the breadth of resources and mentors for research training that Duke offers. Our goal is to prepare fellows who wish to pursue an academic career for future independence. To accomplish this goal, we offer three major research tracks – Clinical Research, Basic Science Research, and Global Health Research. We have had tremendous success with fellows successfully competing for NIH career development (K) awards and other large research grants during fellowship or after the transition to junior faculty. Many of our former trainees are now NIH-funded clinical, translational, or basic science researchers.
At Duke, our fellows complete their ID training with excellent clinical acumen and confidence, coupled with superb research skills and accomplishments. Our training program routinely positions fellows in a favorable position for their preferred faculty position. 
Program Overview
Positions offered per year: Two
Program duration: Three years
Accrediting body: Accreditation Council for Graduate Medical Education
Match participation?: Yes
How to apply
Electronic Residency Application Services (ERAS)
Other program information
Average number of inpatient consults per week: Approximately 15 for each consult service
Weekend call schedule: 1 weekend/month (1st year); 1 weekend every ~6-8 weeks (2nd/3rd years)
Support for conference attendance: St. Jude/PIDS Pediatric Infectious Diseases Research Conference (1st year); IDWeek (3rd year)
New computer provided: Laptop provided for use during fellowship
Textbooks provided: Feigin & Cherry's Textbook of Pediatric Infectious Diseases, Nelson's Pocketbook of Pediatric Antimicrobial Therapy (given new copy annually), Pediatric Transplant and Oncology Infectious Diseases
Contact person
Devin Compton
Fellowship Program Coordinator
DUMC, Box 2739
Durham, NC  27710
919.684.3829
devin.walker@duke.edu
Program director
Kathleen McGann, MD
Professor of Pediatrics
919.668.4838
kathleen.mcgann@duke.edu
Associate program director
Matthew S. Kelly, MD, MPH
Assistant Professor of Pediatrics
919.668.4855
matthew.kelly@duke.edu
Current fellows
Third Year Fellows
Hani Abou Hatab, MD
Brianna K. Ter Haar, MD
Second Year Fellows
Adam Blatt, MD
Tessa Barclay, MD
First Year Fellows
Mayse Nasser, MD
 
We invite you to discover your own future potential for growth, achievement, and professional satisfaction by investigating the possibilities at Duke.