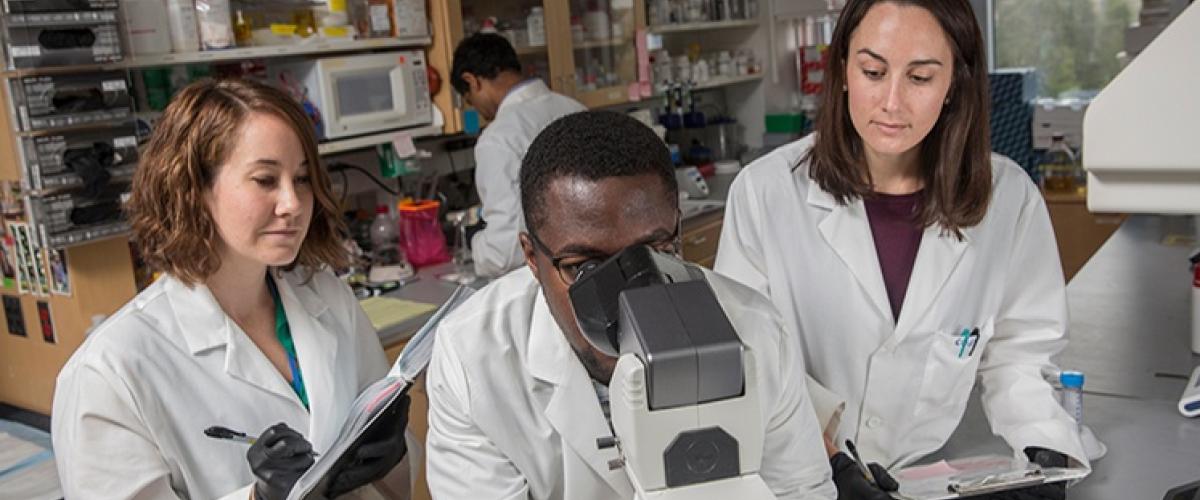 Physician-Scientist Support at Duke
Please see the departmental Research Support page.
Funding for Physician-Scientists
Pediatric Scientist Development Program
The Pediatric Scientist Development Program (PSDP) provides intensive training in research relevant to specialty areas of pediatrics. The program constitutes a national network of mentors and scholars and is responsible for identifying pediatricians who have completed their clinical training and have promising research potential. The goal is to prepare entry-level faculty for research careers in academic pediatrics. Physicians presently in pediatric training programs who wish to train in basic, translational, clinical, or health services research with an established investigator/mentor are encouraged to apply, typically during their final year of residency. A commitment to an investigative academic career is essential.
Duke CTSA TL1 Physician Research Fellowship
The Duke CTSA TL1 physician fellowship is a 2-year training program that provides 2 years of funding to support the research training of physician-scientists.  All eligible physician trainees may apply. There is particular interest in applicants who are interested in broadening their previous training to include a new category of research methodology (e.g., applicants with a bench science background looking to gain training in translational or clinical research, or vice versa) and in applicants looking to obtain training in data science methodology. The Duke CTSA TL1 will provide tailored professional development support, an NIH-scale postgraduate stipend, and federally-designated training-related expenses.
Duke CTSA KL2 Mentored Career Development Program
The Duke CTSA KL2 program provides training and research opportunities for junior investigators that will equip them to participate in and ultimately lead transdisciplinary research teams that transcend traditional scientific silos and embrace diverse stakeholder input; facilitate advancement of discoveries to their next translational phase; leverage partnerships locally, regionally, and nationally to enhance the impact of their discoveries; and promote the development of a diverse workforce.
Duke CTSA National Clinician Scholars Program (NCSP)
The National Clinician Scholars Program (NCSP) aims to offer unparalleled training for clinicians as change agents driving policy-relevant research and partnerships to improve health and health care. The goal of the program is to cultivate health equity, eliminate health disparities, invent new models of care, and achieve higher quality health care at lower cost by training nurse and physician researchers who work as leaders and collaborators embedded in communities, healthcare systems, government, foundations, and think tanks in the United States and around the world.
The overarching goal of the Duke NCSP is to train inter-professional clinician scholars in data-driven inquiry, policy-impactful and rigorous investigation, sensitive community-based participatory research, and transformation of health care practice. Four central pillars undergird the program:
Diverse and experienced program leadership;
Deep bench of dedicated and successful mentors;
Comprehensive didactic research and professional development training program;
Broad range of mentored research and policy training opportunities, including direct engagement with community partners and community organizations
Duke Strong Start Awards
The goal of this program is to nurture the careers of young, laboratory-based physician-scientists at Duke. By offering substantive mentoring and financial resources, this award will support junior, physician-scientist faculty during a critical period of their career, the transition to research independence.
The awards program is intentionally designed to integrate with other Duke initiatives that train physician-scientists at even earlier points in their career, such as the Medical Scientist Training Program (MD-PhD students) and the Lefkowitz Society (clinical residents and fellows). In this way, the Strong Start Awards Program will ensure that Duke University School of Medicine remains a leader in the training of outstanding physician-scientists, a group uniquely committed to the advancement of the medical sciences in our own community and in the nation.
The request for applications is typically posted in early spring and applicants must have a primary faculty appointment within a department of Duke University School of Medicine, prior to advancement to the rank of associate professor.