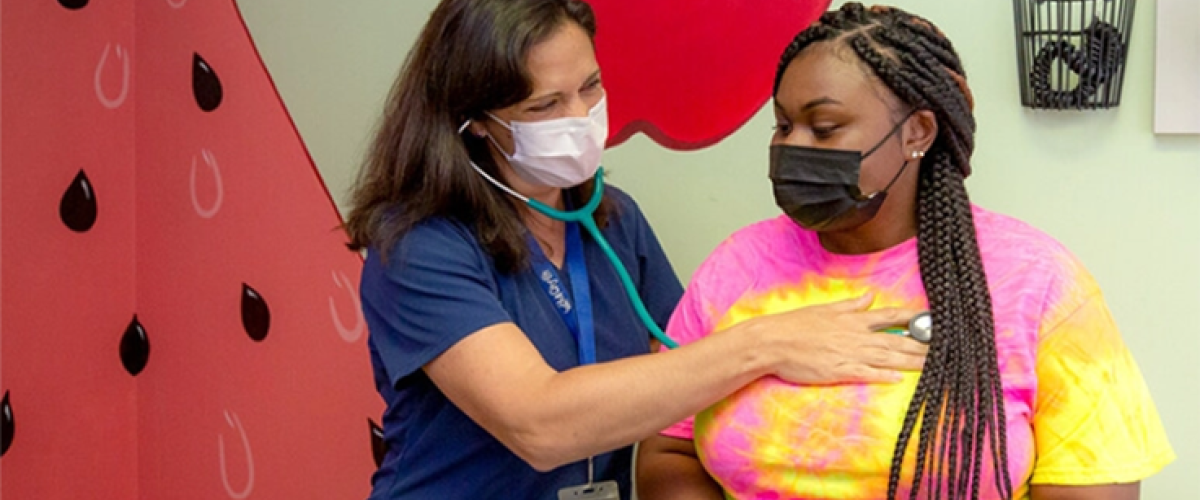 Mission
The overall mission of the Duke Center for Childhood Obesity Research (DCCOR) is to advance effective and equitable obesity prevention and treatment by conducting innovative interdisciplinary research to achieve optimal health for all children.
DCCOR conducts groundbreaking research that seeks to change practice and policy to help children lead healthier lives. Three pillars form the foundation for our research:
Causes, consequences, and correlates of childhood obesity
Prevention of obesity and its related morbidities
Treatment of childhood obesity across the lifespan
Across all pillars, we approach research relative to the following intersecting themes, in order to achieve optimal obesity-related health outcomes: 
Reducing stigma and bias
Improving health equity
Establishing policy
Training the next generation of researchers
Goals
In support of our overarching mission, the center's goals are to:
Embrace innovative research strategies and support interdisciplinary collaboration by intentionally seeking out collaborators across different departments.
Discover and deliver effective obesity prevention and treatment to populations of children across the age spectrum from pre-conception through early adulthood by identifying the physical, mental, social, and economic factors that affect parents and/or children in ways that lead to weight gain.
Close disparities in optimal nutrition and activity that exist for children from diverse racial, ethnic, and economic diverse backgrounds by developing culturally-sensitive intervention materials and focus on reducing barriers and facilitating access to opportunities for healthy eating and activity.
Combat stigma and bias against those affected by obesity by exploring implicit attitudes and their effects on beliefs, behaviors, and health.
Educate learners at all levels about obesity--its causes and effects, weight stigma, and healthy lifestyles by developing a curriculum for children and/or parents that can be used in schools or other settings.
Train future leaders in the field of child obesity research by offering training opportunities and mentorship of junior researchers.
Engage with schools and local health partners to ensure research efforts are community-based by involving non-university and non-academic collaborators at various steps of the research process.
Encourage the development of policies that will benefit child health and promote healthy lifestyle habits by collaborating with legislators and key decision-makers and providing them with expertise and advice.
Publicize our research and disseminate the findings to a wide audience through rigorous scientific channels, center-created newsletters and informational resources, and social media platforms.
History
With the creation of the Duke Center for Childhood Obesity Research (DCCOR) in January 2017 under the leadership of Eliana Perrin, MD, MPH, the Department of Pediatrics and School of Medicine strengthened its commitment to the multidisciplinary research necessary to develop effective and efficient evidence-based behavioral interventions to prevent childhood obesity. Additional Center revenue and project funding is generated by grant awards from sources such as The Duke Endowment and the National Institutes of Health (NIH). The Center is currently co-directed by Sarah Armstrong, MD, director of the Duke Healthy Lifestyles clinical and research programs and Division Chief of General Pediatrics and Adolescent Health in the Department of Pediatrics, and Asheley Skinner, PhD, Professor of Population Health Sciences and Director of Graduate Studies for Population Health Sciences. The Center is conducting impactful, multidisciplinary research on the causes, consequences, correlates, prevention and treatment of childhood obesity.
Research Environment
DCCOR, which is an integral part of the Department of Pediatrics in the Duke University School of Medicine, is strategically positioned to conduct innovative and groundbreaking research in pediatric obesity. Duke University has a strong reputation as one of the top research institutions in the country. In 2021, the Duke School of Medicine received more than $608 million in NIH funding, ranking third in the nation. Ranking first nationally in NIH research grant funding for pediatrics clinical science departments, Duke's Department of Pediatrics received nearly $210 million in NIH grants in 2021.
Duke University is highly supportive of research collaboration among faculty members across disciplines, departments, and schools. With the introduction of the 2006 strategic plan "Making a Difference," Duke began to build university-wide interdisciplinary institutes, initiatives, and centers with the intention of taking novel approaches to problem-focused research. These interdisciplinary entities are supported with core funding from the Office of the Provost, sharing infrastructures that facilitate the work being accomplished by the faculty and students within them. Further evidence of Duke's support of facilitating interdisciplinary partnerships is the School of Medicine's interdisciplinary colloquia awards, which aim to connect faculty members from a variety departments to share knowledge and collaborate on common interests.
Duke's expansive research infrastructure and history of supporting interdisciplinary collaborations will provide DCCOR with a strong foundation to successfully engage in innovative research, make critical advancements and discoveries, and become a leader in the field of pediatric obesity research and prevention.