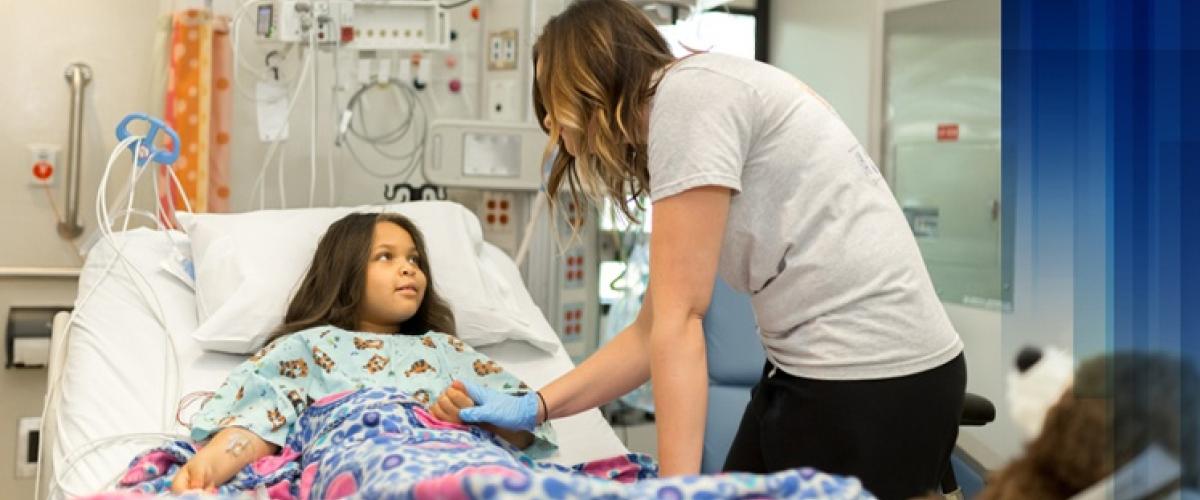 The Duke Pediatric Transplant Program offers the most advanced pediatric care throughout the disease and transplant lifecycle for the best possible outcome and quality of life.
Learn more about our broad range of programs and services:
Pediatric Cord Blood Transplant
Duke's pediatric blood and bone marrow transplant specialists are internationally renowned experts in the emerging field of regenerative medicine. We are engaged in multiple clinical trials exploring the potential of umbilical cord blood for treatment of brain injuries and disorders such as autism and cerebral palsy. Each year, we perform approximately 40 cord blood transplants on children in hopes of improving cognition, mobility, speech, and other functions to improve their quality of life.
Pediatric Heart Transplant
Our pediatric heart transplant program is part of our pediatric heart surgery program, which offers a full spectrum of medical and surgical treatments for children with congenital heart defects, cardiomyopathy, and other heart diseases. Our comprehensive transplant process includes helping you and your family understand your child's medical condition, what to expect from surgery and medical treatment, and how to cope with the realities of having a critically ill child. 
Pediatric Kidney Transplant
A kidney transplant can help your child lead a healthy life when he or she faces kidney failure. Our experienced pediatric kidney transplant team performs successful transplants in children using kidneys from deceased and living donors and provides your child with innovative, personalized transplant care. Our goal is to get your child back to his or her normal routine and activities as quickly as possible using both compassion and advanced therapies.
Pediatric Liver Transplant
Our pediatric hepatologists are liver disease specialists who routinely treat children with biliary atresia, hepatoblastoma, autoimmune liver disease, progressive familial intrahepatic cholestasis (PFIC), metabolic liver disease, alpha-1 antitrypsin deficiency, and many other diseases. When serious, these diseases may require a liver transplant to replace a diseased liver with a healthy organ. If your child is referred to us for a liver transplant, you can feel confident in the depth of our experience. 
Pediatric Intestinal and Multi-VisceralTransplant
An intestinal transplant can be a life-saving option for your child with intestinal failure. Duke is among a handful of U.S. hospitals with experienced transplant surgeons who perform intestinal transplants on children when disease prevents nutrients from being absorbed by the body. Our team will help your child through every step of this journey, from managing the condition before the transplant, through recovery and follow-up.
Pediatric Stem Cell Transplant
Duke's pediatric blood and bone marrow transplant program is internationally recognized for its innovative use of stem cells to treat childhood leukemia, lymphoma, inherited primary immunodeficiency disease, inherited metabolic diseases, and sickle cell disease.
Pediatric Thymus Transplant
Duke Children's Hospital is the only U.S. medical center offering thymus transplantation to infants born with complete DiGeorge syndrome. This rare immune disorder is characterized by the lack of a thymus, the small gland near the heart that generates infection-fighting T cells. We strive to give your child the best chance to develop a strong immune system for a healthy life.
"I can't thank Duke enough," Colby's mother Naomi said. "We love them."

 

Children in need of a transplant receive their treatment and ongoing care at Duke Children's Hospital and Health Center. A comprehensive description of all of our pediatric transplant specialists, services, locations, as well as information to help you prepare for your visit and patient stories is available on Duke Children's.