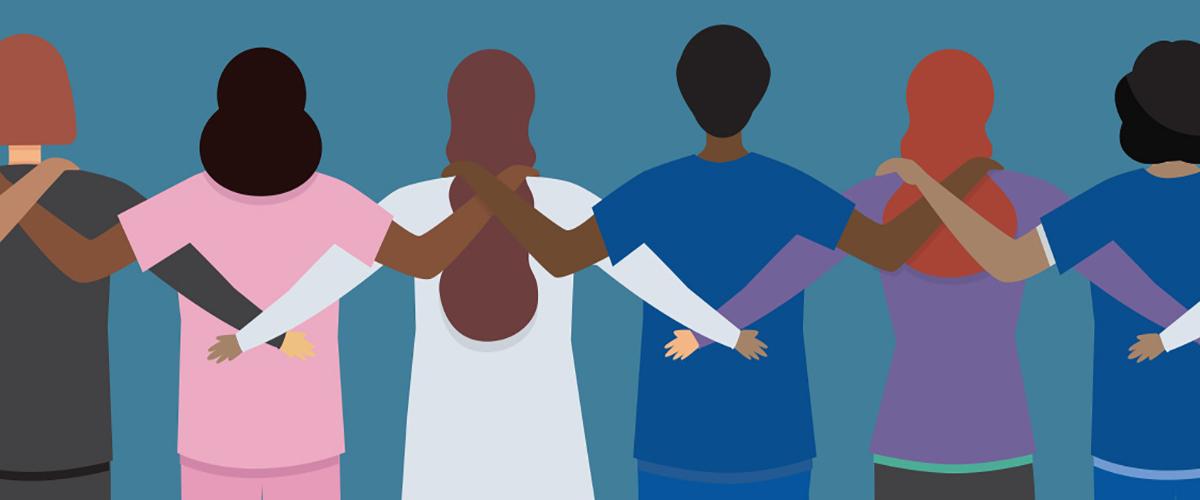 General Resources
Anti-Racism at Duke: This website is a central repository of information about Duke's anti-racism work, including data regularly collected and publicized to monitor our progress, details of new and ongoing programs, research highlights, events, and educational and training materials for wider use across the Duke community.
Resources for Understanding and Confronting Racism and Its Impact: Comprises a collection of resources including books, articles, events and programs about a range of topics addressing different facets and dimensions of structural racism and inequities, and how each one of us can help build the transformed university and community we need to address them. 
DukeMed Pride: DukeMed Pride is a student-led group consisting of LGBTQ and allied students within the Duke University School of Medicine. DukeMed Pride works to address the healthcare issues of sexual and gender diverse peoples with a cohesive and holistic approach. 
Center for Muslim Life:  Muslim Life at Duke is committed to enriching the lives of Muslim students and the whole campus through events and activities that cater to the spiritual, social and intellectual needs of Duke students.
Center for Sexual & Gender Diversity: This office strives to achieve an inclusive campus climate for students, staff, faculty, and alumni with marginalized sexual orientations, gender identities, and gender expressions through education, advocacy, support, mentoring, academic engagement, and providing space.
Freeman Center for Jewish Life: The Freeman Center has been the hub of all things Jewish on campus since its opening in 1999. Students study, hold meetings, and hang out in classrooms, the Sassower library, Tabak Family Commons area, or in the Paresky lounge, which includes an e-print station and many games. Shabbat and Holiday services are held upstairs in the Levenson-Lerner Sanctuary, which also doubles as an event space.
Mary Lou Williams Center for Black Culture: The Mary Lou Williams Center for Black Culture is critically concerned with issues of race and the impact of social difference at the individual, interpersonal and institutional levels. Through lectures, performances, exhibits, and informal gatherings, the Mary Lou Williams Center strives to foster an appreciation for and increase knowledge of the peoples, histories, and cultures of the African diaspora and its many contributions to the world.

The School of Medicine

Multicultural Resource Center

coordinates programs to help medical students, house staff, and faculty work and learn together in an increasingly diverse environment.

The

Visiting Clinical Scholars Program

welcomes underrepresented medical students from other schools for an elective rotation at Duke. This experience helps students see first-hand if Duke is a good fit for their house staff training.

Office for Institutional Equity Complaints and Concerns

: The Office for Institutional Equity (OIE) provides education and support for the Duke University and Duke Health community to advance Duke's shared values of respect, trust, inclusion, discovery, and excellence. OIE responds to and supports the prevention of complaints of discrimination, harassment and sexual misconduct.

Duke Office of Human Resources

: The goal of the Duke Office of Human Resources is to provide human resources support, employee services, and training for Duke departments, programs, and centers. This office serves as a liaison to campus offices and units in the areas of central human resources including compensation, recruitment, employee services, staff and labor relations and learning and organization development.

Office of Equity, Diversity, and Inclusion (Duke School of Medicine

)

:

The Office of Equity, Diversity & Inclusion (EDI) works to build a climate where all members of our faculty, students and staff experience a true sense of belonging and feel that they matter, can thrive and contribute their best work.
Clinical
Explore current Duke Health careers and discover where your talents fit with the expanding team of professionals in the Private Diagnostic Clinic (PDC), the Duke physicians' practice. PDC is currently hiring academic and community-based clinicians in a variety of specialties and clinical settings across the region.
Duke physicians and investigators, as well as trainees and staff, participate in many community events and services throughout Durham and the Triangle. 
Research and Scholarship
All NIH research grants are eligible for supplemental funds to support mentored research of individuals from underrepresented groups. Diversity supplement applicants can be high school students, undergrads, medical students, residents, fellows, and faculty.
The Duke Center for Research to Advance Healthcare Equity (REACH Equity) is one of 12 centers of excellence funded by the National Institute of Minority Health and Health Disparities to improve minority health and reduce health disparities. REACH Equity conducts multidisciplinary research, provides research training, supports career development, fosters community engagement activities, and creates an umbrella of collaboration and fellowship for Duke's disparities investigators. 

Duke University School of Medicine Appointment, Promotion and Tenure (APT) Framework for Scholarship in Justice, Equity, Diversity, Antiracism, and Inclusion (JEDAI)

: The Duke University School of Medicine (SOM) embraces scholarship in the domains of Justice, Equity, Diversity, Antiracism, and Inclusion (JEDAI)* as promotable activities. This document describes the types of JEDAI activities we wish to recognize through the promotion process.
Related video
Diversity & Inclusion at Duke University School of Medicine
The Duke University School of Medicine has been nationally recognized for its commitment to diversity and inclusion. Watch this short video to learn more about this commitment.
Black Men in White Coats
The School of Medicine and DiverseMedicine Inc. have partnered to produce videos featuring black physicians, Dr. Kevin Thomas, Dr. Kwadwo Adu Owusu-Akyaw, and most recently, Physician-Scientist Kafui Dzirasa as part of a video series designed to inspire more underrepresented minority students to consider the field of medicine.