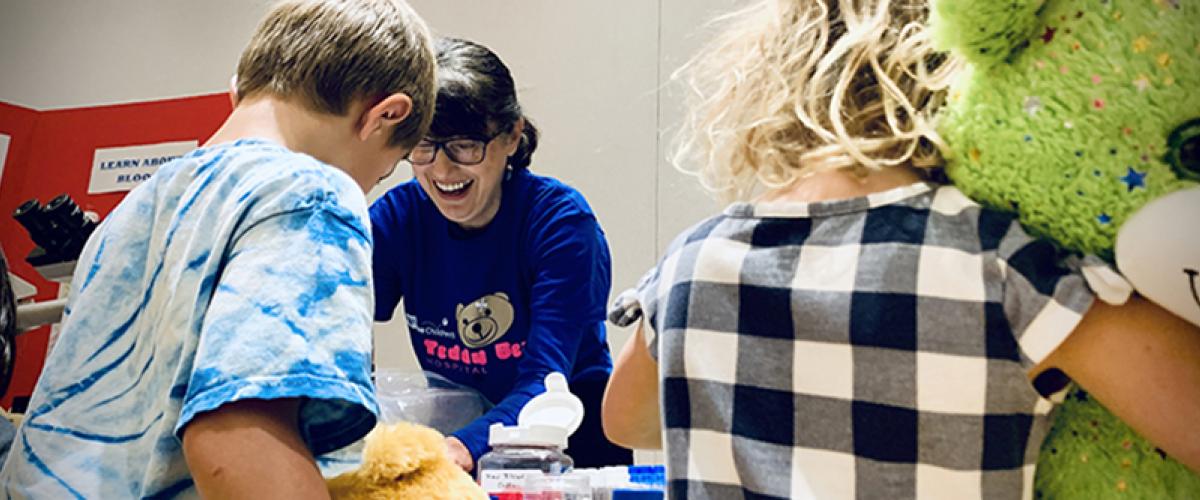 Overview
Improving the health and well-being of children through advocacy is a defining element of the specialty of Pediatrics.
Community Pediatrics involves:
a perspective that expands the pediatrician's focus from one child to the well-being of all children in the community;
recognition that family, educational, social, cultural, spiritual, economic, environmental, and political forces affect the health and functioning of children;
synthesis of clinical practice and public health principles to promote the health of all children within the context of the family, school, and community; and
commitment to collaborate with community partners to advocate for and provide quality services equitably for all children.
(American Academy of Pediatrics Council on Community Pediatrics)
Our Approach
We are committed to the principles of Community Pediatrics as our roadmap for caring well for our patients and our community. We seek to apply these principles as we partner with patients, families, and communities to improve the health and well-being of children through our clinical services, educational programs, research activities and advocacy initiatives.
Why Advocacy?
We recognize that the well-being of our patients is deeply rooted in the well-being of their families and communities and that the care that we provide in clinic and hospital settings is just one piece of a broader framework through which we can affect lives and health outcomes. Therefore, we consider community partnerships and collaborative efforts to educate and mobilize the public, community groups, and policy makers around child and adolescent health issues foundational to how Duke Pediatrics can care for every single child and our community as a whole.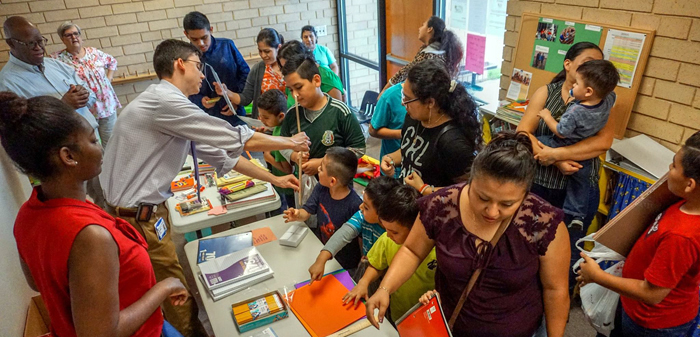 According to Dr. Richard Horton*, advocacy involves "taking the problems that one faces day to day and pursuing their resolution outside their usual place of presentation." Our team members, regardless of specialty, advocate for children and adolescents every day by addressing barriers to positive development and health where they first arise – in the places where children live, learn, and play. Our staff are actively engaged in a variety of partnerships with schools, community organizations, and policy makers to proactively define how our society should raise up our next generation of leaders.
We are eager to learn more from and partner with other child advocates in our community, and we welcome your input and contributions.
* Richard Horton, FRCP, FMedSci, is the present editor-in-chief of The Lancet, a United Kingdom-based medical journal.
Our Current Activities and Partners
Whether through targeted projects, long-standing collaborations, or focused activities such as legislative advocacy or community service opportunities, our faculty, staff, and learners are engaged in a wide range of activities and partnerships with child health advocates and organizations in our community. Whether you are a prospective learner or potential community partner, and whatever your deepest child health passions or concerns are, we would be eager to hear from you to discuss potential opportunities. We are always eager to learn from and partner with other child advocates, and we welcome your input and contributions.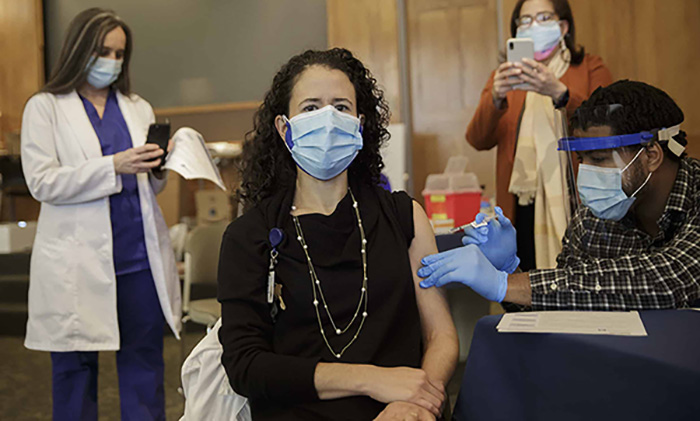 Some of our current partners include:
Latinx Advocacy Teams and Interdisciplinary Network for COVID-19 (Latin-19)
Gabriela Maradiaga Panayotti, MD, assistant professor of pediatrics, and Viviana Martinez-Bianchi, MD, associate professor in family medicine and community health, co-founded the Latinx Advocacy Teams and Interdisciplinary Network for COVID-19 (Latin-19). The initiative is a multidisciplinary coalition of healthcare providers, researchers, social workers and community members who serve the Spanish-speaking and immigrant populations of Durham, Orange and Chatham counties. The coalition seeks to develop strategies to reduce the Latinx population's vulnerability to COVID-19.

Reach Out and Read
​Reach Out and Read is a nonprofit organization that gives young children a foundation for success by incorporating books into pediatric care and encouraging families to read aloud together. Our faculty and resident leaders are involved in maintaining this program in our clinic sites and are involved in promoting the Reach Out and Read message to the patients they care for. 
Bull City Fit
Bull City Fit is a community-based partnership created through a joint use agreement with Durham Parks and Recreation to provide a free wellness program that offers free evening and weekend activity sessions that encourage and promote active living. The program offers a safe and fun environment to put into practice the lifestyle modifications that are necessary to treat childhood obesity and maintain a healthy lifestyle.
LEAP
Believing in the potential of all children, the Latino Educational Achievement Partnership (LEAP) empowers Latino and other children in Durham to achieve academic success by providing a high-quality preschool and on-going support through middle school. 
Resident Outreach in Community Obesity Prevention (ROCOP)
The Resident Outreach in Community Obesity Prevention (ROCOP) project aims to educate the at-risk preschool population of Durham about healthy nutrition and physical activity. The aim of the program is to increase education in the early childhood setting to prevent the onset of childhood obesity. Specifically, our residents focus their outreach efforts on the North Carolina Division of Public Health's "Eat Smart, Move More" message of "5-3-2-1-almost none," a child-friendly and evidence-based teaching tool that highlights healthy eating and exercise. 
Carolinas Collaborative: Community-Pediatric Partnerships for Promotion of Child Health and Prevention of Toxic Stress
With the guidance and support of the American Academy of Pediatrics' Community Pediatrics Training Initiative and recent funding from the Duke Endowment, the Duke Pediatrics Residency program is actively involved in creating the Carolinas Collaborative--a North and South Carolina residency advocacy collaborative that will support eight pediatric residency programs. All of the programs will be involved with advancing community-based interventions that aim to ameliorate the effects of toxic stress in their communities. The Duke community partnership project will be with Durham Connects.
Durham Connects 
Durham Connects increases child well-being by bridging the gap between new parent needs and community resources. A collaborative effort among the Duke Center for Child & Family Health, Duke Center for Child and Family Policy, Department of Social Services, and Durham County Health Department, Durham Connects hires and trains nurses to provide in-home health assessments of mothers and newborns, as well as discuss the social conditions affecting the new family. The aim is to address toxic stress by using these visits to identify parental strengths and promote parental self-efficacy and self- confidence in parenting skills.
Ronald McDonald House
The Ronald McDonald House of Durham & Wake offers a comforting home away from home and a community of support for seriously ill children and their families. Residents have the opportunity to interact with and support patient families in an informal environment while their children are receiving medical treatment at Duke.