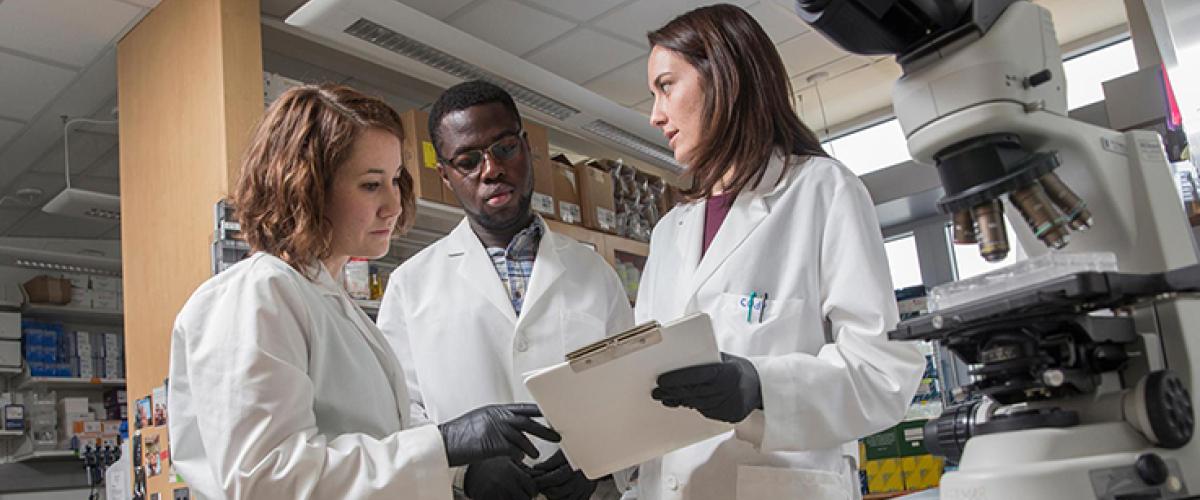 Cutting edge clinical, translational, and basic research that focuses on childhood disease is a fundamental priority for the Department of Pediatrics. The faculty and staff in the department are engaged in individual projects and also collaborate with other investigators across the Duke University community who are focused on improving the health of children. 
Similarly, the Duke Pediatrics Residency Program promotes and nurtures resident research and productivity to:
Train the next generation of clinical investigators and physician-scientists
Promote intellectual and academic curiosity
Support academic subspecialty fellowship applications
Lay the foundation for successful careers in academic medicine
All Duke Pediatrics residents are required to accomplish scholarly activities. There are diverse opportunities, including case studies, literature reviews, teaching conferences, quality improvement, as well as research projects. Residents are strongly encouraged to directly become involved in clinical research, including patient-oriented research, basic laboratory-based investigation, as well as translational research projects.
Our department takes great pride in our residents and fellows, seeing these individuals as a reflection of the quality of our programs and part of Duke University School of Medicine's tradition of excellence. Watch this video to learn more about the unparalleled research opportunities at Duke. 
Research Curriculum
Research opportunities are available for all residents, including residents with a prior track record of research experience (eg. MD, PhD residents), as well as those residents who do not have prior research experience but who desire research training and experience during residency training. 
Duke Pediatric Research Scholars Program for Physician-Scientist Development (DPRS)
The Duke Pediatric Research Scholars Program for Physician-Scientist Development is meticulously designed to cater to the distinct professional aspirations and interests of our physician-scientist trainees. In our commitment to nurturing the next generation of physician-scientist, we offer our Research track Residents the highly coveted 4-year SCI-StARR R38 pathway, affording trainees a substantial 18 months of protected research time. Participants in this 4-year pathway benefit from a thoughtfully tailored schedule that combines the intensive clinical training environment of Duke Children's with the rigorous scientific training that is available in Duke's world-renowned research programs.
Resident Research Month
Residents may receive elective credit for up to two blocks of research time.  This may be augmented with an additional one-month rotation in a subspecialty rotation related to their area of research or one to two years in a longitudinal subspecialty clinic.  It is anticipated that most research projects will take place over the course of several months to years.  The protected elective time may be used for periods of intensive work such as background literature reviews, data collection or data analysis.
Research Conferences
SAR Talks
As part of the training experience, each Senior Assistant Resident (SAR) researches, writes, and presents a 25-30 minute talk covering a pediatric topic of his/her choice. A SAR talk focuses on a relevant clinical or scientific question and assembles current literature to address the key issues surrounding this clinical question. Often the topics are a culmination of a resident's research or other type of long-term project.
Department of Pediatrics Grand Rounds
Pediatrics Grand Rounds is a weekly topic- and case-based presentation by members of the faculty of the Department of Pediatrics (and colleagues throughout the nation). Topics and cases are selected to provide faculty and trainees with up-to-date knowledge about timely issues in pediatrics.
The Robert J. Lefkowitz Society
The Robert J. Lefkowitz Society provides a home for MD and MD/PhD post-graduate trainees who are in the Duke University School of Medicine, including the Department of Pediatrics residency and fellowship programs and are pursuing careers with a primary focus on basic and translational research as physician-investigators. 
Research Events
All residents are encouraged to submit their research findings for presentation at local or national professional and scientific society meetings, such as the North Carolina Pediatric Society annual meeting, the annual meeting of the American College of Physicians or scientific society meetings of subspecialties of Pediatrics.
Research Funding Opportunities
To facilitate the implementation of resident research projects, funding support is also available for selected research projects.  Additionally, protected time in the form of research electives are granted to selected residents who have formulated a research project and plan.
Resident Research Grants
The Resident Research Grants were created to prepare and mentor residents for careers in academic pediatrics, enhance departmental scholarly productivity, and provide support for residents to present their results at local, regional, and national meetings. The scholarly activity supported by the program can be clinical or basic research, systematic reviews of the literature, detailed clinical case reports, hypothesis-driven/evidence-based quality improvement projects, or organization of educational conferences.
All projects related to the evaluation and care of children, the physiology of childhood development, and/or the pathogenesis of childhood disease are welcomed. Projects involving collaboration between pediatric residents and faculty and mentors/investigators outside the department of pediatrics are encouraged.
Deborah Kredich Pediatric Education Fund
The Kredich Fund was established in 2006 in honor of former Duke residency program director and faculty member, Dr. Deborah Kredich.  Supported by generous donations from Duke Pediatrics faculty and alumni, the Kredich Fund provides support for a variety of educational experiences for residents and subspecialty fellows at Duke, including participation in research projects, attendance at national meetings, involvement in community outreach programs, and sponsorship of a named Grand Rounds. 
CATCH Grants
The Community Access To Child Health (CATCH) Program is a program of the American Academy of Pediatrics whose aim is to increase children's access to medical homes or specific health services through funding pediatricians' and pediatric residents' projects that focus on community-based solutions to these issues. Residents are encouraged to apply for residency training grants to support the development of novel community programs. The Department of Pediatrics has a number of successful grant applications from both faculty and residents in this program. A faculty member, who serves as one of the North Carolina Chapter CATCH facilitators, is available to mentor residents if they choose to pursue these grant opportunities.
Additional Duke Funding Opportunities
The Office of Research Support provides an extensive, on-line database of funding opportunities as a resource for the entire Duke University research community.
Quality Improvement and Patient Safety
Continuous quality improvement and improving patient safety are critical components to the mission of Department of Pediatrics as well as the Pediatrics Residency Program. Our program has developed a comprehensive quality improvement and patient safety curriculum for our trainees in order to prepare them for the changing landscape of health care. This includes:
Teaching basic principles of continuous quality improvement (QI), performance improvement, team work, patient safety, learning from defects, and the culture of safety to residents
Developing an infrastructure for residents to participate, design and lead QI and patient safety projects
Creating of a forum for continuous review of individual, departmental, and health system quality metrics
To improve the quality and safety of the care we deliver to our patients
All pediatric residents participate in the design and implementation of a quality improvement project. In the intern year, residents participate in hospital-wide initiatives such as the hand washing initiatives which are part of the GME incentive program. In the second and third year, residents select their own quality improvement project or elect to join an existing team to address an issue of their choosing using improvement methodology. Many important improvements in care for patients at Duke have been the result of efforts of our Pediatrics residents.
Pediatric Resident Safety Council
The mission of the Pediatric Resident Safety Council (PRSC) is to enhance patient safety through collaboration, innovation, and leadership at the resident level. The resident-led PRSC works to educate and engage fellow residents on quality improvement, process improvement, and patient safety. As part of its mission, the council organizes bimonthly morbidity and mortality conferences and takes action items from each conference to improve patient safety at Duke Children's.