Overview
Research in the Division of Medical Genetics is focused on cutting-edge discoveries in genetics with the goal of improving health care for patients. Our faculty is actively engaged in a multitude of research and clinical activities, many of which are multidisciplinary and involve collaborations with experts in other specialties such as cardiology, neurology, and physical therapy.
Research activities include laboratory research on the genetic basis of Glycogen Storage diseases; genome-wide screening to examine the genetic causes of congenital malformations; mechanisms of gene regulation; development of diagnostic tests for Glycogen Storage diseases and Lysosomal Storage diseases; state-of-the-art mass spectrometry methods for diagnosing and monitoring metabolic disorders, newborn screening, and research studies on drug metabolism and oxidative stress; translational research to develop new therapies for Glycogen Storage diseases and metabolic disorders; research on methods to suppress/modulate the immune response to therapeutic proteins; investigation of individual responses to enzyme replacement therapy for Pompe disease and other Lysosomal Storage diseases; clinical trials to test safety and efficacy of potential new therapies, including treatments for Down syndrome and neuromuscular disorders; studies of clinical variability, natural history and long-term complications of Glycogen Storage diseases, Lysosomal Storage diseases, Creatine Deficiency syndromes, Molybdenum Co-factor Deficiency, and Isolated Sulfite Oxidase Deficiency; as well as studies of social and ethical issues related to genetic testing of children in families with Fragile X syndrome. 
New discoveries arising from this research will improve diagnosis, treatment, and counseling for individuals with these genetic disorders and their family members. Many of our faculty members are recognized as being among the leaders in their chosen area of research. For ongoing research studies in our division, please contact the appropriate faculty member.
Research Faculty
Priya Kishnani, MD, Chief
Areas of interest: Down syndrome, glycogen storage diseases, lysosomal storage disorders, natural history and long-term issues. Treatment strategies for these disorders (small molecule, enzyme replacement therapy).
Deeksha Bali, PhD
Areas of interest: Biochemical and molecular diagnosis of glycogen storage diseases and lysosomal storage diseases, liver adenomas and HCC in GSDI patient population. Pompe disease and myopathy associated with various GSDs and its treatment using different treatment modalities.
Karl-Dimiter Bissig, MD, PhD
Areas of interest: Liver disease, ranging from viral hepatitis to metabolic liver disease and liver cancer
Jennifer L. Cohen, MD
Areas of interest: Beckwith-Wiedemann syndrome (an epigenetic and genetic overgrowth disorder), genetic neuromuscular disorders (in particular those with cardiac involvement), and lysosomal storage disorders (such as Wolman disease and Pompe disease)
Gregory Crawford, PhD
Areas of interest: Identification and characterization of gene regulatory elements.
Areeg Hassan El-Gharbawy, MBBCh, MD
Areas of interest: Genetic disorders and inherited disorders of metabolism
Dwight Koeberl, MD, PhD
Areas of interest: Gene therapy for inherited disorders of metabolism, including glycogen storage disease type Ia, Pompe disease, phenylketonuria, trifunctional protein deficiency, galactosemia, propionic acidemia, and hemochromatosis.
Allyn McConkie-Rosell, PhD, CGC
Areas of interest: Genetic risk communication in childhood, genetic testing in children, Fragile X syndrome, genetic counseling.
Marie McDonald, MD
Areas of interest: Clinical genetics, dysmorphology, Fabry disease.
Vandana Shashi, MD
Areas of interest: Chromosome 22q11 deletion syndrome (also known as DiGeorge syndrome or velocardiofacial syndrome), evaluation and management of children with birth defects, mental retardation and developmental delays.
Ashlee R. Stiles, PhD
Areas of interest: Improving and developing laboratory diagnostics for rare inborn errors of metabolism
Baodong Sun, PhD
Areas of interest: Development of effective treatment for glycogen storage diseases types I, II, III and IV using gene therapy, enzyme replacement therapy and substrate reduction therapy approaches.
Sarah Young, PhD
Areas of interest: Biological therapy, genetic variation, genetic vectors, mass spectrometry, neonatal screening, creatinine deficiency syndromes, Molybdenum cofactor disorders, Pompe disease, urinary biomarkers.
Clinical Research
Undiagnosed diseases
22q11 deletion syndrome
Down syndrome
Glycogen storage disease type 1
Glycogen storage disease type II (Pompe disease)
Glycogen storage disease type III
Gaucher disease
Fabry disease
Lysosomal Storage Disease (LSD) Registry
Rare Disease Repository
Hypophosphatasia
Clinical Trials
For further information about clinical trials currently being conducted in the Division of Medical Genetics, please visit dukechildrens.org.
Alice and YT Chen Pediatric Genetics and Genomics Center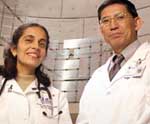 In April 2006, Myozyme (recombinant acid alpha-glucosidase) was approved by the FDA for use in patients with Pompe disease, representing the culmination of efforts by YT Chen, MD, PhD, and colleagues to develop a cure for this deadly condition. With the goal of reproducing the bench-to-bedside approach that generated Myozyme and now offers hope for patients with Pompe disease, the Chens made a gift to the Department of Pediatrics to establish the Alice and YT Chen Pediatric Genetics and Genomics Research Center. This initiative focuses on single gene disorders amenable to enzyme replacement therapy or gene therapy.  Priya Kishnani, MD, Chief of the Division of Medical Genetics and the lead investigator in the international clinical trials of Myozyme, serves as the Medical Director of the Center.