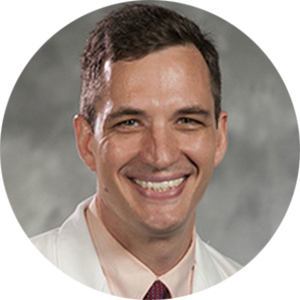 Michael Deel, MD, assistant professor of pediatrics in the Division of Hematology-Oncology, recently received a 2020 Hyundai Scholar Hope Award from Hyundai Hope On Wheels (HHOW). The official grant presentation was conducted via a virtual handshake ceremony on September 9 to coincide with National Childhood Cancer Awareness Month.
Deel treats pediatric patients with hematologic disorders or malignancy. His research focuses on finding novel ways to target fusion-positive pediatric sarcomas. His current work focuses on understanding the gene regulation and molecular pathways responsible for alveolar rhabdomyosarcoma, which is among the most difficult to cure pediatric cancers.
"Battling cancer when you are a child, teenager, or young adult can seem isolating. Spending the majority of your time around nurses and doctors instead of your friends and peers can be lonely," Deel said. "However, Hyundai's generous support is a beautiful reminder that the local community is rallying around our brave patients to offer encouragement and hope. In this project, we are seeking to inform better ways of treating a type of muscle cancer called rhabdomyosarcoma, which primarily affects teenagers and is especially difficult to cure. We are so grateful for Hyundai's support and are eager to use it to positively impact the way we treat patients with rhabdomyosarcoma in the future."
According to the American Cancer Society, cancer is the leading cause of death among American children by disease per year. Each year more than 15,000 children are newly diagnosed with cancer. HHOW research grants work to expand the knowledge of pediatric cancer and develop novel approaches for associated tumors. These grants are comprised of two categories of awards: Young Investigators Grants ($200,000 each) and Hyundai Scholars Hope Grants ($300,000 each). Grant recipients were selected as part of a competitive, peer-reviewed process open to U.S. based Children's Oncology Group (COG) member institutions.
New this year, HHOW announced $4.4 million dollars in grants to children's hospitals and other institutions to help in the fight against COVID-19. The novel coronavirus is a particular threat to children with pediatric cancer, who often experience compromised immune systems.
"Throughout the country, talented doctors are working tirelessly to help kids fight cancer by conducting research or providing bedside care," said Scott Fink, Board Chair, Hyundai Hope On Wheels. "Our goal at Hope On Wheels is to provide these doctors with the grant funds they need to perform their lifesaving work."
About Hyundai Hope On Wheels
Hyundai Hope On Wheels® is a 501(c)(3) non-profit organization that is committed to finding a cure for childhood cancer. Launched in 1998, Hyundai Hope On Wheels provides grants to eligible institutions nationwide that are pursuing life-saving research and innovative treatments for the disease. HHOW is one of the largest non-profit funders of pediatric cancer research in the country, and primary funding for Hyundai Hope On Wheels comes from Hyundai Motor America and its more than 820 U.S. dealers. Since its inception, Hyundai Hope On Wheels has awarded more than $172 million towards childhood cancer research in pursuit of a cure. With this latest award, Duke Children's has received more than $3 million in funding.
For more information, please visit Hyundai Hope on Wheels.
---
Related content
Faculty Spotlight: Michael D. Deel, MD [02.08.2019]