This week's faculty spotlight shines on Michael Deel, MD, assistant professor of pediatrics in the Division of Hematology-Oncology. Deel talks to us about how he transitioned from a career as a civil engineer to becoming a physician-scientist in pediatric hematology-oncology and his particular interest in caring for adolescent patients, who have unique psychosocial needs in addition to their medical needs. He also shares his reflections on his most significant mentor, Corinne Linardic, MD, PhD, and offers some insights into his research focused on fusion-gene positive (alveolar) rhabdomyosarcomas.
How long have you been at Duke? How did you decide to come here?
I came to Duke for a Pediatric Hematology-Oncology fellowship in 2013. Our fellowship training program offers a great balance of clinical experiences and research opportunities, and that was initially the reason I decided to come here. However, I have chosen to stay at Duke because I've come to realize the unique privilege it is to work in such a supportive and collegial environment that strives for excellence in all areas of patient care, education, and research.
What are your responsibilities within the Division of Hematology-Oncology? What does a typical day for you look like?
I oversee the medical students, residents, and fellows and care for patients on the inpatient Hematology-Oncology service several weeks out of the year.  During other weeks, I am in a research laboratory off Research Drive trying to make advances in understanding cancer biology in order to improve therapies for pediatric malignancies. I find this career structure to be very rewarding. Interacting with our brave patients and their families keeps me grounded; working with trainees and an interdisciplinary health care team challenges me to continue to learn; and having substantial time to devote to scientific interests provides intellectual stimulus. 
How did you first get interested in medicine? What made you decide to pursue pediatric hematology-oncology in particular?
I grew up in the Appalachian Mountains in a rural coal mining town in western Virginia. I had no exposure to medicine but enjoyed math, science and problem solving, which led me to pursue engineering. I worked as a civil engineer for several years, and while I genuinely enjoyed it, I wanted to do something that would give me a greater sense of purpose and meaning--a sense that I was making a difference. For me, becoming a pediatric hematologist-oncologist was the perfect career choice. Walking alongside patients and families as they journey through their darkest hours--when cancer is first diagnosed or when all curative options have been exhausted--is such a unique privilege. These interactions provide a lens into humanity and provide a perspective on life that few have the opportunity to witness. These cases inspire my research and propel me to discover new ways of treating childhood cancers.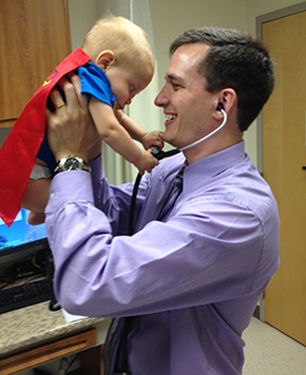 What's one thing you wished more of your patients knew about pediatric hematology-oncology or medicine in general?
Pediatric hematologist-oncologists and the entire group of interdisciplinary providers that treat kids with cancer care deeply about our patients. We worry about our patients, we mourn for our patients, and we especially enjoy celebrating the triumphs of our patients. We know that having a severe hematologic problem or malignancy is not easy, and it is certainly not fair.  Although long clinic days and prolonged hospitalizations are the norm, we all genuinely want our patients to be able to experience as much of the normalcies of childhood as possible.
What are your specific interests in the field of pediatric hematology-oncology?
I appreciate all aspects of pediatric hematology and oncology. However, I really enjoy caring for adolescent patients, who have unique psychosocial needs in addition to their medical needs. I have learned so much from listening to teenagers share what it is like to have a complex medical condition, and they have made me a better physician. Adolescent and young adult patients are more likely to get certain types of cancers, including sarcomas, which is my research focus. 
Is there any research or other special projects you are doing or plan on doing?
Fusion-gene positive (alveolar) rhabdomyosarcomas are among the most difficult to treat cancers of adolescents and young adults. These soft-tissue sarcomas have a propensity to metastasize and often become refractory to therapy. Researchers have known for decades that a specific PAX3/7-FOXO1 fusion oncogene drives these tumors, yet our first-line of treatment is the same as it was in the 1970s. Unfortunately, PAX3/7-FOXO1 fusion proteins are inherently disordered transcription factors with no drug binding sites, which makes it difficult to target directly. My research seeks to identify targetable co-activators or other proteins that may regulate PAX3/7-FOXO1 stability and/or transcriptional activity.
Who was your most significant mentor and what knowledge did you gain through this collaboration?
Throughout my career, I have been fortunate to be surrounded by wonderful individuals who have cared about me and have wanted to see me learn, develop, and succeed. Corinne Linardic is one such person. I had never held a pipette before I joined Corinne's lab during the research training years of fellowship. Despite not having many experimental successes in the first several months, she believed in me and gave me the confidence to keep going. Under Corinne's mentorship, I learned much more than how to perform molecular biology and biochemical assays. She taught me to think critically, to maintain optimism and appreciate the process, to prioritize the interest of trainees, and to build on the strengths of others rather than focus on their weaknesses. Corinne truly is a wonderful mentor and a great example to follow.     
Do you have any advice for trainees?
Training--and pediatric hematology-oncology fellowship in particular--is mentally, physically, and emotionally exhausting. However, if this is your passion, it is absolutely worth it. There are so many career paths for pediatric subspecialists--for those who enjoy patient care, education, research, or any combination. Figure out what excites you and seek out experienced physicians who are willing to invest in your development and help you reach your goals.
What passions or hobbies do you have outside of work?
I love being outdoors, whether it's for recreation or to do home and garden projects. Although I am not an especially gifted gardener or carpenter, I enjoy working with my hands to create something. My lovely wife and I are blessed to have three active boys who give me an excuse to play with Legos, throw a football, and eat ice cream. We also enjoy spending time with our church community, relatives, and friends in the Durham-Chapel Hill area.