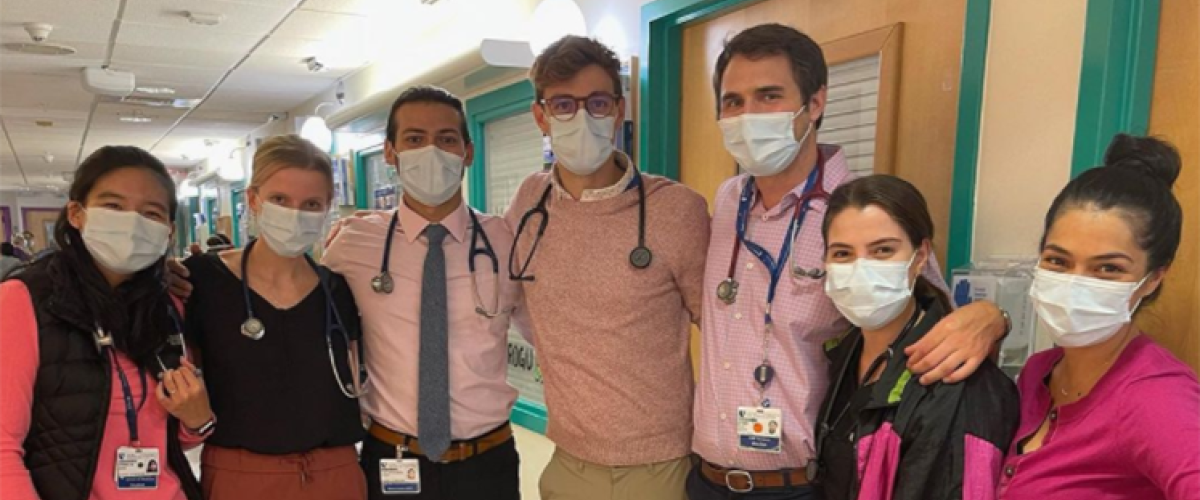 Overview
The curriculum in general pediatrics fulfills the requirements specified by the American Board of Pediatrics. For an overview of this curriculum, please see the rotation and conference descriptions below. Our goal is to provide the highest quality education in general pediatrics to allow residents to be successful leaders in all fields of pediatrics.
The Chair of the Curriculum Committee works closely with a team of Education Managers who run each rotation. These Education Managers are Duke faculty members who have been specially trained in graduate medical education. The Education Managers are supported by the Curriculum Committee in developing meaningful goals, objectives, instructional strategies, and evaluation strategies to promote resident learning. The pediatric residency curriculum is available as the Curriculum Online for Resident Education (CORE). Educational materials for every rotation are available at all times to our residents electronically and may be accessed by computer or mobile device.  
Hands-On, Team-Based Training
The three-year residency curriculum is designed to develop outstanding pediatricians that are well-prepared to take their training in pediatrics in whatever direction they choose with a strong foundation in general pediatrics. During the training period, resident responsibilities are increased to develop caring, independent physicians. Residents are supervised by a faculty committed to teaching, clinical care, and research.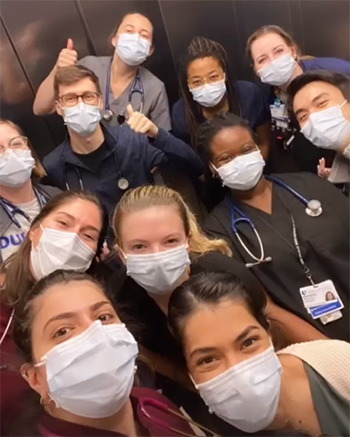 Each of the recognized pediatric sub-specialty services is available at Duke Children's Hospital & Health Center. The department encompasses the Divisions of Allergy and Immunology, Blood and Marrow Transplantation, Cardiology,  Child Abuse and Neglect, Critical Care Medicine, Emergency Medicine, Endocrinology, Gastroenterology, Global Health, Hematology-Oncology, Hospital Medicine, Infectious Diseases Medical Genetics, Neonatology, Nephrology, Neurology, Primary Care Pediatrics, Pulmonary and Sleep Medicine, Quantitative Sciences, and Rheumatology. 
The Division of Pediatric Surgery within the Department of Surgery offers a full complement of surgical faculty and services to pediatric patients. The Department of Radiology supports a dedicated Pediatric Imaging Center staffed by trained pediatric radiologists. Likewise, the Duke Emergency Department contains a separate Pediatric Emergency Center with dedicated staff.
Since Durham is fortunate to attract families from a diverse set of racial, ethnic and cultural backgrounds and nationalities, a goal of the training program is to prepare trainees to participate in the global care of children. Philanthropic support from the Burroughs Wellcome Fund, Dr. John P. McGovern, and the Lenox Baker Children's Hospital Foundation, Inc. allows the program to offer experiences in select sites for trainees to explore healthcare in other countries.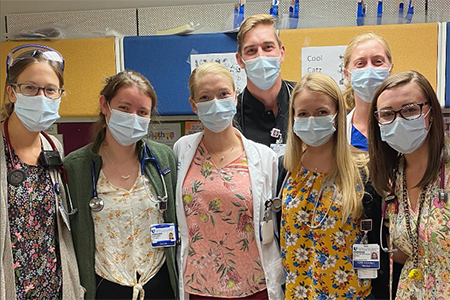 Throughout their residency training, residents spend one half day a week in their Continuity Clinics, where they provide primary care for patients and families. The Continuity Clinics are patterned after a group practice model and are supervised by attending physicians within Duke Children's Primary Care. 
The residency curriculum is evaluated continuously by a curriculum committee composed of faculty and chief residents. Importantly, we encourage our own residents to be innovative and develop new rotations and educational opportunities, which benefits current and future trainees.
Residents provide continuous feedback through rotation evaluations, a monthly meeting with the chiefs and program leadership (JAR/SAR morning report, intern morning report and bi-monthly town hall meetings). 
Chief Residents
The chief residents are faculty members of the Office of Pediatric Education and work closely with the program director and the Vice Chair of Pediatric Education in planning and conducting the teaching and patient care activities of the department. Additional duties include overseeing the resident staff activities and arranging resident schedules and conferences. They attend on the wards and also in the primary care continuity clinics and urgent care clinics. Importantly, they represent the resident perspective at many critical departmental and health system administrative and safety meetings.
House Office Continuity Clinics
Continuity clinic is a key facet of pediatric residency training as this is the main place residents have the opportunity to develop longitudinal relationships with patients and families. At Duke Pediatrics, residents are assigned to either the Roxboro Road or South Durham clinic site at the start of their residency training and continue at this same site for all 3 years. Each intern inherits a panel of patients from a graduating resident and continues to add to this panel as they rotate through the full-term nursery, NICU, acute care clinic, emergency department and the wards. By the end of your 3 years, you will be sad to say good-bye to families who you have gotten to know well, and they will be sorry to be saying good-bye to you. Our primary care medical home has an incredible multi-disciplinary team. You will have the opportunity to work with a great group of faculty preceptors, fabulous Spanish interpreters, lactation nurses, mental health professionals, nurse clinicians and social workers. All in all, we care for the majority of patients covered by Medicaid in Durham, and our patients also come from a number of surrounding counties. Click here for a brief tour of the clinics.
Rotations
PL-1
PL-1 rotations include the full-term nursery, the intensive care nursery, inpatient services, ambulatory clinics, a community hospital, the emergency department, and two to three subspecialty experiences. The PL-1 has primary responsibility for the care of inpatient and outpatient infants and children. PL-1s work as part of an interdisciplinary team that includes senior residents, faculty, students and other personnel.
PL-2
The PL-2 year currently includes supervisory rotations on the wards, both at Duke and at a community hospital. During supervisory rotations, PL-2s oversee PL-1s and medical students. In addition to subspecialty experiences, PL-2s have rotations in adolescent medicine, behavior and development, community outreach and advocacy, the emergency department, and the pediatric intensive care unit. PL-2s also may rotate at Lincoln Community Health Center--a community health center dedicated to the care of a large medically underserved urban pediatric population.
PL-3
The PL-3 year includes a wide variety of required and subspecialty experiences. PL-3s serve as the senior supervisory resident in the intensive care nursery, on the general inpatient services, and in the general pediatric ambulatory facility on Roxboro Road. PL-3s also have rotations in the emergency department. They also have the opportunity to work 1:1 with a hospitalist for 2 weeks on the inpatient complex care service. This is the year that interested residents have the opportunity to engage in global health rotations if they elect to.  Finally, the program includes many individualized subspecialty rotations during the PL-3 year to add breadth and depth to each resident's experience, while also allowing the resident to tailor his or her education to his or her personal and career goals.
Representative Pediatric Rotations
PL-1
| | | |
| --- | --- | --- |
| Rotation | Months | Duty Period |
| General Inpatient Wards | 3 | Day/Night Teams |
| Inpatient Subspecialty Wards | 1.5 | Day/Night Teams |
| Full Term Nursery | 1 | Day Team |
| NICU | 1 | Day Team |
| Community Hospital | 1 | Day/Night Teams |
| Acute Care Clinic | 1 | Day Only |
| Emergency Medicine | 0.5 | Shifts |
| Electives/Individualized Curriculum | 2.0 | Jeopardy |
| Community (for 1 month, Jeopardy call) |   |   |
PL-2
Rotation
Months
Duty Period
Inpatient Subspecialty Wards
2
Day/Night Teams
Community Hospital
1
Day/Night Teams
PICU
2
Day/Night Teams
NICU
1
**Day/Night Team
(in 2 week blocks)
Emergency Medicine
1
Shifts
Community Health Center
1
Day Only
Behavior & Development
1
Day Only/Jeopardy
Electives/Individualized Curriculum
3
Jeopardy
PL-3
| | | |
| --- | --- | --- |
| Rotation | Months | Duty Period |
| General Inpatient Wards | 2-3  | Day/Night Teams |
| Complex Care Team | 0.5 | Day Only |
| Emergency Medicine | 2 | Shifts |
| Acute Care Clinic Chief | 1 | Day Only |
| Adolescent Medicine | 1 | Day Only/Jeopardy |
| NICU | 1 | Day Only |
| Electives/Individualized Curriculum | 3-4 | Jeopardy |
Jeopardy Call: Home call to come in and cover if one of your colleagues is unable to work.
Night Team: Variable hours depending on rotation. Shift begins between 4pm to 6pm and ends between 8a-12p, working every other night. **New NICU coverage model for PL-2s consists of 5 consecutive night shifts from 6pm to 6am.