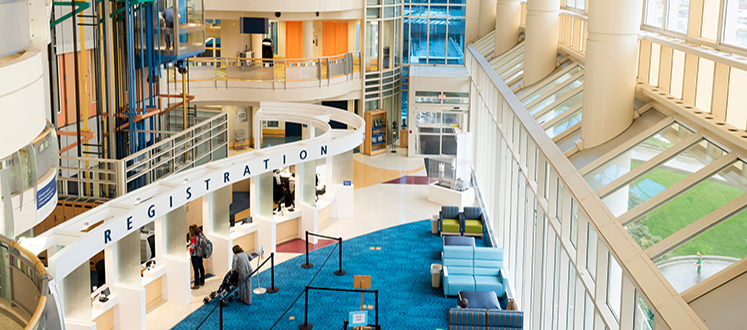 A variety of special facilities, pathways, and courses combine to make Duke's Pediatrics Residency a unique and progressive program.
Training Sites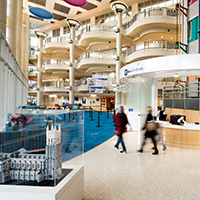 Duke Children's Hospital and Health Center
The major site of training is Duke Children's Hospital & Health Center, located within the Duke University Medical Center in Durham, North Carolina. Duke Children's Hospital serves as both a primary care facility and a referral center for patients from North Carolina and throughout the Southeast.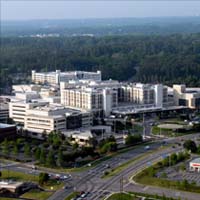 WakeMed Health and Hospitals
WakeMed Raleigh provides a fantastic community hospital experience for Duke residents where they work on integratedd teams with the UNC residents to care for patients in the inpatient, outpatient and ED setting. WakeMed is located in Raleigh about 30 minutes from Duke Hospital. In a new children's hospital built in 2010, WakeMed Children's offers 25 inpatient rooms, 12 observation rooms, and eight pediatric ICU beds. Residents are under the supervision of superb hospitalists and intensivists in caring for the children of Wake County and serving as a referral center for the surrounding counties.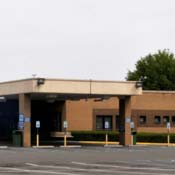 Lincoln Community Health Center (LCHC)
Lincoln Community Health Center (LCHC) is located in downtown Durham near North Carolina Central University. It is a federally qualified health center that provides comprehensive care for Durham's medically underserved community. The clinic offers a range of health care services, including medical, surgical, nutritional, dental, social, mental health, family care nursing, OB-GYN, and "Teen Clinics." The Pediatric Clinic at Lincoln is a primary care pediatrics facility. Upper level residents serve an essential role in the clinic at Lincoln, operating independently with support from attending pediatricians.
Pathways
Duke Pediatric Research Scholars Program for Physician-Scientist Development (DPRS)
The Duke Pediatric Research Scholars Program (DPRS) is a Physician-Scientist Training Program (PSTP) dedicated to preparing burgeoning physician-scientists for careers in academic medicine. The program focuses on the period from the completion of the MD, DO, MD/PhD, or DO/PhD degree through residency and fellowship training, with the goal of achieving a full-time academic appointment as an investigator. DPRS combines the intensive clinical training environment of Duke Children's with the rigorous scientific training of the world-renowned laboratories at Duke University. 
The Duke Department of Pediatrics is proud of its rich community of physician-scientists, and the Duke Pediatric Residency and Medicine-Pediatrics Residency Programs are fully supportive of research-enhanced training. The Duke Pediatric Research Scholars Program for Physician-Scientist Development is tailored to meet the unique professional goals and interests of physician-scientist trainees by providing three distinct research pathways to select from, including the Traditional Pathway, the American Board of Pediatrics (ABP)-approved Integrated Research Pathway (IRP), and Duke's R38 SCI-StARR Pathway.
Special Courses and Rotations
Advocacy and Community Pediatric Outreach Rotation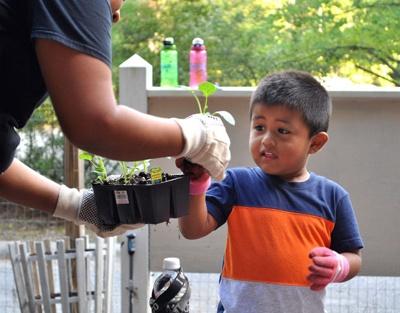 The advocacy and community pediatrics outreach rotation is designed to enhance resident education by providing pediatrics residents with exposure to a wide variety of community health education, home needs assessment, and pediatric advocacy experiences that are specifically targeted toward the urban underserved population residing in Durham County. Residents accompany community health workers on home visits for high-risk patients, teach health classes to local at-risk preschool, elementary and high school children and participate in visits to the North Carolina General Assembly when in session. In addition, residents participate in a variety of self-paced modules covering poverty, oral health, motivational interviewing and advocacy topics.  
Some of the specific experiences include: 
Reach Out and Read
​Reach Out and Read is a nonprofit organization that gives young children a foundation for success by incorporating books into pediatric care and encouraging families to read aloud together. Our faculty and resident leaders are involved in maintaining this program in our clinic sites. All residents are involved in promoting the Reach Out and Read message to the patients they care for in their clinics. 
Healthy Lifestyles and Bull City Fit
During their community and advocacy rotation, residents are engaged in the Healthy Lifestyles Program, a multidisciplinary clinic for overweight patients, and Bull City Fit, a partnership created through a joint use agreement with Durham Parks and Recreation to provide a free wellness program for these patients and their families. Because it is difficult to effectively teach the principles of building and sustaining community relationships within the constraints of a one month rotation, Bull City Fit is used as a model for the residents as they maintain oversight during their month and are involved in everything from volunteering with the children's exercise classes to program planning and development.
Resident Outreach in Community Obesity Prevention (ROCOP)
The Resident Outreach in Community Obesity Prevention (ROCOP) project aims to educate the at-risk preschool population of Durham about healthy nutrition and physical activity. The aim of the program is to increase education in the early childhood setting to prevent the onset of childhood obesity. The preschool age group was specifically chosen based on data from Durham's Partnership for Children, which indicates children between the ages of two to five have an increased incidence of not receiving well child care. As a result, by the time they return for kindergarten physicals, many are already overweight. Building on the principles of advocacy and utilizing family-centered communications techniques, residents conduct outreach work to impact this target population. Specifically, the residents focus their outreach efforts on the North Carolina Division of Public Health's "Eat Smart, Move More" message of "5-3-2-1-almost none," a child-friendly and evidence-based teaching tool that highlights healthy eating and exercise. 
Carolinas Collaborative: Community-Pediatric Partnerships for Promotion of Child Health and Prevention of Toxic Stress
With the guidance and support of the American Academy of Pediatrics' Community Pediatrics Training Initiative and recent funding from the Duke Endowment, the Duke Pediatrics Residency program is actively involved in creating the Carolinas Collaborative--a North and South Carolina residency advocacy collaborative that will support 8 pediatric residency programs. All of the programs will be involved with advancing community-based interventions that aim to ameliorate the effects of toxic stress in their communities. The Duke community partnership project will be with Durham Connects.
LEAP
Believing in the potential of all children, the Latino Educational Achievement Partnership (LEAP) empowers Latino and other children in Durham to achieve academic success by providing a high-quality preschool and on-going support through middle school. 
Durham Connects 
Durham Connects increases child well-being by bridging the gap between new parent needs and community resources. A collaborative effort among the Duke Center for Child & Family Health, Duke Center for Child and Family Policy, Department of Social Services, and Durham County Health Department, Durham Connects hires and trains nurses to provide in-home health assessments of mothers and newborns, as well as discuss the social conditions affecting the new family. Nurses make a first visit when the baby is about three weeks old, with the goal of connecting new parents with the community resources they need to raise a healthy child. Through the community pediatrics and advocacy rotation and with recent funding from the Duke Endowment, the Duke Pediatrics Residency program is embarking on a new collaboration with the Durham Connects group. 
Ronald McDonald House
The Ronald McDonald House of Durham & Wake offers a comforting home away from home and a community of support for seriously ill children and their families. Residents have the opportunity to interact with and support patient families in an informal environment while their children are receiving medical treatment at Duke. 
Child Abuse Rotation
Residents work with the physicians and social workers to assess suspected victims of child abuse and neglect. The residents observe interviews with patients and families, participate in the physical examination, and attend conferences and legal proceedings, when appropriate. Most residents will spend two to four weeks in this rotation.
Evidence-Based Medicine (EBM) 
Evidence-based Medicine is woven into multiple facets of resident education in order to emphasize it as a method of continuous learning, rather than an isolated set of skills. There are specific EBM journal clubs held throughout the year. During these sessions, a pair of senior residents leads the group through discussion of a relevant journal article while also choosing a specific EBM concept to emphasize in a brief didactic during the session. A medical librarian joins the group to assist with formulation of clinical questions, literature searches and article analysis.
These EBM core concepts are then applied throughout residency training. In particular, at the conclusion of every morning report, the resident who presented the case then poses and answers a pertinent clinical question with supporting evidence. Additionally, senior residents on the wards are encouraged to identify a clinical question for each admitted patient. They then use the medical literature to answer their question in a senior note and share this information on daily rounds.
Global Health Rotation
The Duke Pediatrics Residency training program is committed to providing opportunities to allow our trainees to become globally experienced, socially responsible, service-oriented citizens so that they may make a lifelong commitment toward reducing the burden of disease and health inequalities. Our current programs support residents for short-term global health electives for two months. This immersion experience allows our residents to experience clinical care and occasionally research projects in other countries. Opportunities exist in many sites where Duke has long-term commitments including Central and South America, sub-Saharan Africa, Southeast Asia, and Australia.
Watch a video about Dr. Kristin Schroeder and her team in the Duke Global Health Institute, who have been working in Mwanza, Tanzania, to improve outcomes for children with cancer.
History of Medicine Elective
This is a one-month elective where residents develop a deeper understanding of the major themes in the history of American Pediatrics. A general pediatrician with a doctorate in history mentors residents as they conduct a literature search to explore the historical background of a particular area of interest.
Newborn Care Rotation
The newborn rotation is an elective that can be taken as part of parental leave. The focus of the rotation will be on normal newborn care and resources in the community available to babies and their parents. The rotation will be up to one block in length and will be free from call and weekend duties. Residents on the rotation still attend their weekly continuity clinic.
Compassionate Care Conference
Compassionate Care Conference is a bi-monthly interprofessional conference that offers members of the healthcare team a regularly-scheduled time during their fast-paced work lives to openly and honestly discuss social and emotional issues that arise in caring for patients.
In contrast to traditional case report conferences, the focus of the compassionate care conference is on the human dimension of medicine. At each conference a panel of healthcare workers has the opportunity to discuss an emotionally impactful patient case. Panelists share their experiences, thoughts and feelings related to the case with the goal of fostering humanistic interpersonal connections with patients and other members of the interprofessional team.  
Leadership Curriculum
All second-year Pediatrics residents and third-year Medicine-Pediatrics residents participate in a longitudinal leadership curriculum designed to prepare them to lead clinical teams. Participants are provided coverage for clinical responsibilities so they can attend 6 monthly 2-hour sessions, which combine didactic content with small-group case discussion and role play. Peer coaching occurs between sessions. Topics covered include Leadership Styles and Personality Types, Emotional Intelligence and Resilience, Communication and Team Management, Conflict Management, Negotiation, and Influence/Persuasion.
Resident Committees
We invite you to discover your own future potential for growth, achievement, and professional satisfaction by investigating the possibilities of training at Duke Pediatrics.
Advocacy & Community Council for Trainees (ACCT)
The Advocacy & Community Council for Trainees (ACCT) is a resident-led organization with strong faculty support. Their overarching goal is to advocate for our community's children: their health, safety, and future. They aim to provide pediatricians in training with resources and skills to serve our community as well as provide services to children and families in need. Above all, ACCT puts kids first and aim to be a voice for our community's children. The group works closely with the American Academy of Pediatrics on advocacy efforts and organizes monthly meetings with guest speakers whose work is pertinent to our mission. They also help educate through a monthly, informal journal club (Evidence Based Advocacy). ACCT focuses on using this knowledge to improve our community, state, and world for children.
Pediatric Residency Safety Council (PRSC)
PRSC is a resident-led council supported by faculty and chief residents with a goal of being recognized as leaders in patient safety and fostering a culture of safety across the residency program. The council works to educate and engage fellow residents on quality improvement, process improvement, and patient safety. The PRSC organizes monthly morbidity and mortality conferences and reviews safety reports. More than 30 action items have been completed by the PRSC since its establishment in 2013. Council members have presented posters at multiple local, regional, and national conferences and have received recognition for their work. The PRSC provides a model for patient safety across graduate medical education at Duke.
Resident Wellness Committee
The Resident Wellness Committee is a resident-initiated group that is committed to advocating for resident wellness at the level of the individual and the institution through innovative curriculum changes, educational conferences, and other activities inside and outside of the workplace. The committee meets monthly to develop curriculum and plan initiatives.
Resident Diversity and Inclusion Committee
The Resident Diversity and Inclusion Committee partners with program leadership to foster a welcoming environment in alignment with the Department of Pediatrics' mission. The group is committed to achieving equity in health outcomes for all children through outstanding clinical care, advocacy efforts, and educational excellence. The committee meets monthly to plan new initiatives to support our mission, such as holding meetings with the Duke Student National Medical Association (SNMA), organizing social events like our annual BBQ, and pursuing opportunities to reach out to our community such as our partnership with the Durham LEAP program. 
Residents as Teachers Committee
The Resident as Teachers (affectionately known as RAT) Committee assists in developing residents as effective educators. They have held sessions for residents to learn how to teach on the fly and have prepared helpful teaching sheets that are available on the wards, full term nursery and clinics. At the same time, the RAT committee is dedicated to the teaching of medical students, and they conduct regular student-focused morning reports and other teaching sessions throughout the clerkship.
Advising and Mentoring
Upon entering the program, all Duke Pediatric residents are assigned an advisor from within the program leadership team. Program advisors meet with residents at least twice a year to review their progress, provide feedback, create an individualized curriculum, and assist with optimizing their educational endeavors at Duke. Residents and advisors establish relationships that continue over all three years of their training.
All residents are also assigned a career mentor, who is selected to meet the individual needs of each resident, as identified by the resident and their advisor. The mentor provides general career counseling in a given subspecialty and may facilitate participation in a research or quality improvement project. Residents may have more than one mentor, depending on their evolving career decisions and mentoring needs.
Teaching Opportunities
Training physicians who can share their skills with other learners is an important part of our education at Duke Pediatrics. There are many opportunities for learning these skills throughout residency.
Teaching and Feedback Workshops
Rising second years participate in a workshop on setting personal goals for teaching, applying basic adult learning principles, practicing the five Microskills of Clinical Teaching, learning bedside teaching strategies, practicing effective feedback, and identifying team leadership skills.
Rising third years participate in a workshop on understanding the learning needs of students and interns, identifying strategies to incorporate more teaching into clinical practice, and practicing effective feedback.
Resident as Teacher Elective
Second and third year residents can choose this two week elective.
Residents are given a structured and individualized curriculum to augment their teaching skills in various clinical settings.