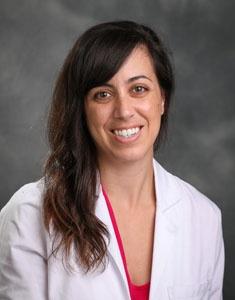 Ashley Stark, MD, a rising second-year Neonatology fellow in the Duke Department of Pediatrics, was recently awarded a Thrasher Research Fund Early Career Award for her project entitled, Pharmacokinetics of Clonidine Administered in the Infant Population.
The purpose of the Fund is to provide grants for clinical, hypothesis-driven research that offers substantial promise for meaningful advances in the prevention, diagnosis and treatment of children's diseases, particularly research that offers broad-based applications.
Beginning with a generous donation from Mr. E.W. "Al" Thrasher, the Fund was established over 40 years ago to improve children's health by supporting medical research. The Fund is now recognized globally by the medical community for supporting research that makes a difference in the lives of children.
The Fund is currently supporting over 150 projects, including but not limited to research on childhood blindness, nutritional deficiencies, brain injuries, diabetes, asthma, cancer, genetic diseases and a number of infections including HIV, malaria, tuberculosis, schistosomiasis, cytomegalovirus and otitis media.
Congratulations on this well-deserved honor!