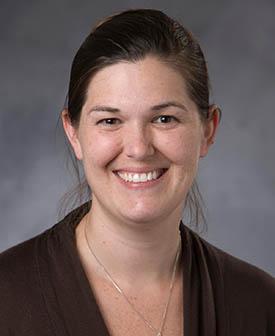 Jennifer Rothman, MD, was recently named Medical Director of the Children's Clinical Research Unit (CCRU) in the Department of Pediatrics, effective January 15, 2023.
Over the course of the past year, the Children's CRU has undergone a comprehensive assessment of CCRU operations and practices. That assessment has led to a series of ongoing and upcoming improvements. With the help of DOCR, our CCRU faculty advisory board, and a series of working groups, the CCRU has created a CCRU optimization plan. This rapid-cycle approach to process improvement includes 3 pillars, framed within a broader effort to improve transparency and promote a service-oriented culture. In her new role, Dr. Rothman will continue working closely with division chiefs and other key research faculty, as well as Research Practice Manager Kristina Balderson, MHA, CCRC, to continue implementing these changes to both improve and expand our departmental research mission.
Dr. Rothman is currently an associate professor of Pediatrics in the Division of Hematology-Oncology, director of the Pediatric Hematology-Oncology Fellowship program, director of the Pediatric Sickle Cell Program, and director of the Inherited Bone Marrow Failure Program.
Dr. Rothman's clinical research program is focused on a variety of blood disorders including sickle cell disease, immune thrombocytopenia, and bone marrow failure. Through these studies, she hopes to improve our ability to care for children with blood disorders. She has an interest in medications and novel ways to treat sickle cell disease, but also studies quality of life and outcomes of other blood disorders. In addition, Dr. Rothman is an active member of the CCRU faculty advisory board.
"I would like to extend special thanks to Monica Lemmon, MD, who has served as Medical Director of the CCRU since July 2021," said Ann M. Reed, MD, chair of the Departments of Pediatrics. "As you may be aware, Dr. Lemmon has elected to step down from this position to dedicate more effort to her new role as associate dean for scientific integrity in the School of Medicine, effective November 1, 2022. Thanks, also to Christoph Hornik, MD, PhD, MPH, who will be serving as Interim Medical Director of the CCRU until January 2023."
Please join us in thanking Dr. Lemmon and welcoming Dr. Rothman to her new leadership position.