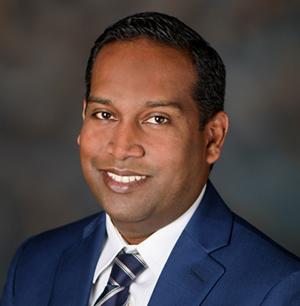 Kris Michael Mahadeo, MD, MPH, has been named chief of the Division of Transplant and Cellular Therapy in the Duke Department of Pediatrics, effective January 9, 2023 following an extensive national search. Dr. Mahadeo served most recently as professor in the Department of Pediatrics Patient Care, Division of Pediatrics, Department of Stem Cell Transplantation, CARTOX Program, University of Texas MD Anderson Cancer Center in Houston, TX.

Dr. Mahadeo will lead the Division of Transplant and Cellular Therapy, which offers cutting-edge treatment for a variety of severe and life-threatening illnesses, including cancer, blood disorders, immune deficiencies, hemoglobinopathies and specific metabolic diseases. In his new role, Dr. Mahadeo will oversee the clinical, research, and educational activities within the division and will also collaborate with colleagues across Duke Health on clinical research activities in transplant and cellular therapy. 

Dr. Mahadeo pursued his undergraduate studies at Adelphi University Honors College in New York and received his medical degree from St. George's University School of Medicine in Grenada and his Master of Public Health from the Medicine University of Medicine Dentistry in New Jersey. After completing his residency in pediatrics at Children's Hospital at St. Peter's University Hospital in New Jersey, he went on to complete a fellowship in pediatric hematology/oncology at Children's Hospital at Montefiore/Albert Einstein College of Medicine in New York and a fellowship in pediatric blood and marrow transplantation at Duke University Medical Center.

Dr. Mahadeo is an active clinical researcher with  numerous peer reviewed articles and frequently lectures  nationally and globally.  As co-chair of the Pediatric Acute Lung Injury and Sepsis Investigators (PALISI) Network HCT-Cancer Immunotherapy Subgroup, he has partnered across disciplines and academic societies to re-define diagnostic criteria for pediatric SOS, severity grading for toxicities of cell therapy and improve access to advanced life support therapies such as ECMO for pediatric TCT patients. Dr. Mahadeo is also an active member of other professional societies including the American Society of Transplantation and Cellular Therapy (ASTCT), European Blood and Marrow Transplant (EBMT) Society, and American Society of Hematology .  He serves as an inspector for the Foundation for the Accreditation of Cellular Therapy (FACT) and is a member of FACT's quality management committee.  FACT accreditation is the threshold for excellence in cellular therapy including blood and marrow or cord blood transplant.

"Dr. Mahadeo is a proven leader in leading and expanding blood and marrow transplant programs, and we are pleased and excited to have him join our team, said Ann M. Reed, MD, chief of the Department of Pediatrics and physician-in-chief of Duke Children's. "Please join me in welcoming Dr. Mahadeo to his new leadership position in Duke Pediatrics."