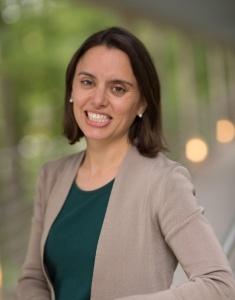 Monica Lemmon, MD, has recently been awarded the highly competitive 2021 Philip R. Dodge Young Investigator Award by the Child Neurology Society.
The Dodge award honors physician-scientists who are active members of the Child Neurology Society and who have made significant advances in basic or clinical research in the field of child neurology for the benefit of patients and their families. Lemmon will receive research funding and present at the organization's annual meeting in the fall. 
According to Ann M. Reed, MD, Samuel L. Katz Distinguished Professor of Pediatrics and chair of the Department of Pediatrics, "Receiving the Dodge Young Investigator Award represents a true distinction, and Dr. Lemmon is highly deserving of this recognition."
Lemmon is currently an associate professor of pediatrics in the Division of Neurology, associate professor in population health sciences, and director of Duke's Fetal and Neonatal Neurology program, where she primarily serves patients and families impacted by neurologic conditions that present in utero or during the neonatal period. She also works with Duke's Neonatal Intensive Care Nursery (NICN) collaborative, a multidisciplinary group of clinicians committed to improving the outcomes of neonates at neurodevelopmental risk. She also serves as the medical director of the Children's Clinical Research Unit (CCRU).
Lemmon's research efforts span three primary areas, including decision making for critically ill children, patient-clinician communication, and stakeholder engagement in research. She is currently involved in a variety of ongoing studies, including a longitudinal study of decision making for infants with neurologic conditions here at Duke.
Lemmon earned her medical doctorate from Harvard Medical School and completed her residency and fellowship training in neonatal neurosciences from Johns Hopkins Medicine.