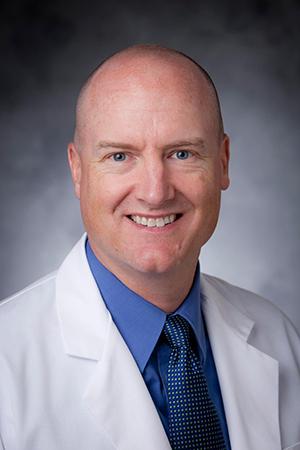 Jason Lang, MD, MPH, associate professor of pediatrics in the Division of Pulmonary and Sleep Medicine, has earned the American Lung Association's (ALA) Innovation Award for his project entitled, Pulmonary Rehab May Help Children with Obesity and Asthma, and has been selected to join the ALA Research Team, a group of world-class scientists tackling a wide range of lung health issues.
Obesity in asthma increases breathing problems and leads to limited activity. Among children with asthma, obesity is associated with a reduced response to conventional anti-asthma drugs. Pulmonary rehabilitation is a treatment cornerstone in adults but understudied in children. Inspiratory muscle 'rehabilitation' training (IMR) in adults improves diaphragmatic strength, reduces breathing problems and improves exercise tolerance. Lang and colleagues found that in obese children with asthma, IMR over 6 weeks was well-tolerated, and led to improved diaphragmatic strength and exercise capacity, and a tendency for fewer asthma symptoms. They will now study whether a simple IMR intervention over 8 weeks can improve breathing outcomes in 60 children ages 8 to 17 with obesity and asthma. The study will confirm the safety, feasibility/patient enthusiasm and preliminary efficacy of a novel non-drug intervention. The findings may provide a valuable new management tool for children struggling with obesity and asthma. 
Lang joins a team of more than 130 researchers who are now funded by ALA. In 2022, ALA awarded a total of $13.1 million in research grants that address a wide range of lung health topics, including lung cancer, chronic obstructive pulmonary disease, asthma and more.
Research projects funded by ALA are selected through rigorous scientific review and awardees represent the investigation of a wide range of complex issues. Awards were given in eight different categories, including the innovation award, which was presented to Lang.
"Dr. Lang is part of an elite team that helps us address the American Lung Association's mission to save lives by improving lung health and preventing lung disease. More than 34 million Americans live with lung disease, and as we face new challenges like youth vaping and new respiratory infections, lung health research is more important than ever," said American Lung Association Chief Medical Officer Albert Rizzo. "We are proud to have Dr. Lang on our team to help us realize our vision of a world free of lung disease."
---
About the American Lung Association
The American Lung Association is the leading organization working to save lives by improving lung health and preventing lung disease through education, advocacy and research. The work of the American Lung Association is focused on four strategic imperatives: to defeat lung cancer; to champion clean air for all; to improve the quality of life for those with lung disease and their families; and to create a tobacco-free future. For more information about the American Lung Association, which has a 4-star rating from Charity Navigator and is a Gold-Level GuideStar Member, or to support the work it does, call 1-800-LUNGUSA (1-800-586-4872) or visit: Lung.org.