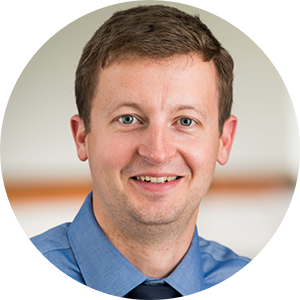 Christoph Hornik MD, PhD, MPH, has recently been named the new vice chair of research in the Department of Pediatrics, effective January 14, 2022.
Hornik came to Duke in 2005 as a Pediatrics resident, followed by fellowship training in pediatric cardiology and critical care medicine. He joined the faculty in 2013 and is currently a member of the Division of Pediatric Critical Care Medicine and chief of the Division of Quantitative Sciences. Hornik earned an MPH in biostatistics from the University of North Carolina at Chapel Hill and received his PhD in pharmaceutical sciences from the University of North Carolina Eshelman School of Pharmacy.
Hornik spends the majority of his time as a clinical researcher with a secondary appointment at the Duke Clinical Research Institute (DCRI). There, his work focuses on applying clinical pharmacology, biostatistics, and innovative trial methods to drug development for critically ill children. He also serves as the director of the DCRI's Pharmacometrics and Small Trials Program. In this role, he guides a team of pharmacometricians who provide clinical pharmacology and pharmacometrics services to sponsors and investigators, and a team of cross-trained project leaders, who operationalize smaller single and multicenter trials using innovative and efficient operational principles.
Clinically, he attends as part of the multidisciplinary team caring for infants and children with cardiac disease in the pediatric cardiac intensive care unit. Trained in both pediatric cardiology and critical care medicine, he works closely with colleagues from pediatric cardiology, anesthesia, and pediatric cardiac surgery. His team includes critical care and cardiology fellows, as well as an outstanding group of critical care nurse practitioners. Together, they provide essential peri-operative care, and manage children with critical medical cardiac disease including acute heart failure.
According to Ann M. Reed, MD, chair of the Department of Pediatrics and physician-in-chief of Duke Children's, "Dr. Hornik is a recognized leader nationally and internationally and is an exceptionally talented clinician-scientist--we are fortunate that he will be serving in this new role in the department."
William Steinbach, MD, who has led the department's research mission for the last 6 months, has elected to step down as vice chair to assume the position of chair of the Department of Pediatrics and associate dean for Child Health in the University of Arkansas for Medical Sciences (UAMS) College of Medicine and pediatrician-in-chief of Arkansas Children's.