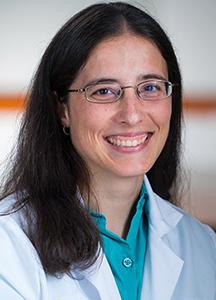 Every spring the Duke University School of Medicine recognizes the achievements of a number of our colleagues with the presentation of School of Medicine faculty awards. This year's faculty awards will be presented at the annual School of Medicine Spring Faculty Celebration on Tuesday, May 10 from 5:00 to 7:30 pm at Duke Gardens. 
Congratulations to Rachel Greenberg, MD, MHS on this well-deserved honor!
Early Career Mentoring Award in Clinical/Population Health Sciences
Rachel Greenberg, MD, MHS
Associate Professor of Pediatrics
Division of Neonatal-Perinatal Medicine
The Research Mentoring Awards recognize faculty members in the School of Medicine for excellence in research mentoring. Excellence can be demonstrated in many ways such as by the accomplishments of individual mentees, by programs implemented by the mentor, or by exceptional creativity in mentoring.  
Rachel G. Greenberg obtained her MD from the Duke University School of Medicine and completed her pediatrics residency, chief residency, and neonatal-perinatal medicine fellowship at Duke University Medical Center. She also received a Master of Science in Biostatistics and a Master of Health Sciences in Clinical Research from Duke University. Dr. Greenberg's research focuses on improving safety and efficacy of drugs in infants and children, particularly through her efforts as co-investigator for the NICHD-funded Pediatric Trials Network. She is also co-investigator for the NCATS-funded Duke-Vanderbilt Trial Innovation Center, where she provides consultation and research solutions to investigators developing multicenter studies. In addition, she has been the principal investigator of multiple multicenter trials funded by the U.S. Food and Drug Administration, Centers for Disease Control, and National Institutes of Health.