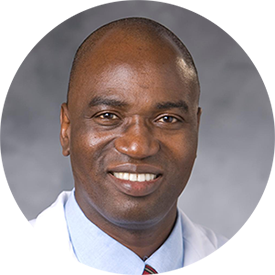 Rasheed Gbadegesin, MD, MBBS, was recently elected into the Association of American Physicians (AAP). Dr. Gbadegesin is a professor in the Departments of Pediatrics and Medicine and an investigator in the Duke Molecular Physiology Institute (DMPI). He is the associate dean for Physician-Scientist Development and director of the Office of Physician-Scientist Development in the School of Medicine. Dr. Gbadegesin's research is focused on understanding the molecular pathogenesis of nephrotic syndrome and other chronic kidney diseases affecting children. An international leader in the field, he and his collaborators have identified at least eight new genetic causes and risk factors for chronic kidney diseases in addition to biomarkers of disease and druggable pathways that may treat these genetic defects. He has developed a robust biorepository for childhood nephrotic syndrome and collaborates with researchers across the world to unravel the genetic basis for excess of chronic kidney diseases in people of African ancestry.
Founded in 1885, the AAP is an honorific society composed of leading senior physician–scientists who make significant contributions to improving patient health. Members of the AAP "pursue medical knowledge, and the advancement through experimentation and discovery of basic and clinical science and their application to clinical medicine." The AAP currently has 1,200 active members and approximately 700 emeritus and honorary members from the United States, Canada, and other countries.
Gbadegesin will be inducted during a ceremony at the AAP Annual Meeting on Saturday, April 9, 2022 in Chicago. Congratulations on this prestigious honor!