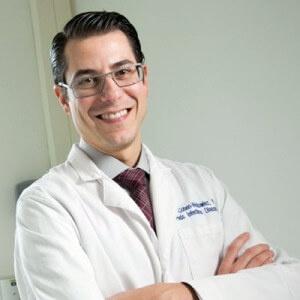 Michael Cohen-Wolkowiez, MD, PhD, was inducted into the American Society for Clinical Investigation (ASCI) at an April joint meeting of ASCI, the Association of American Physicians (AAP), and the American Physician-Scientists Association (APSA). Founded in 1908, the ASCI is one of the nation's oldest and most respected nonprofit medical honor societies and is focused on the role of physician-scientists in research, clinical care, and medical education.
Cohen-Wolkowiez, is the Kiser-Arena Distinguished Professor of Pediatrics at Duke University School of Medicine and head of Pediatric Research at the Duke Clinical Research Institute. His research focuses on computational and patient-centric methods to advance and accelerate pediatric and adult drug development as well as strategic leadership of large, federally sponsored programs and networks.
Cohen-Wolkowiez serves as the principal investigator for a diversified portfolio of research that is funded via a peer-review process, including grants from the National Institutes of Health (NIH), Food and Drug Administration (FDA), Biomedical Advanced Research and Development Authority (BARDA), various foundations, and industry sponsors. In order to amplify the impact of this research, he worked for two years as a scientific advisor to the FDA, Office of Clinical Pharmacology and Office of Pediatric Therapeutics. He has served as protocol chair, principal investigator, or held an investigational new drug (IND) application for 15 trials in children resulting in enrollment of more than 3,500 children. He has performed or led more than 50 PK/PD analyses across multiple therapeutic areas that were used to support data submission to the FDA. He is the author of more than 140 peer-reviewed publications and has mentored numerous trainees in clinical pharmacology.
Cohen-Wolkowiez completed his medical degree at the Universidad Central de Venezuela and his residency in Pediatrics at the Nicklaus Children's Hospital in Miami, Florida. Board-certified in pediatrics and pediatric infectious disease, he completed infectious disease subspecialty training at Duke University and received a PhD in Pharmaceutical Sciences from the University of North Carolina at Chapel Hill School of Pharmacy.