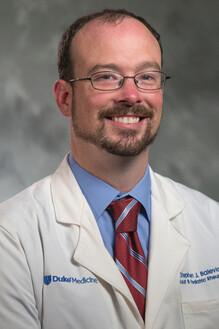 An early career Department of Pediatrics investigator is being recognized with a prestigious award from the American Society of Clinical Investigators (ASCI). 
Stephen J. Balevic, MD, PhD, MHS, is among 50 recipients of the ASCI's 2023 Young Physician-Scientist Award. The Young Physician-Scientist Awards recognize physician-scientists who are early in their first faculty appointment and have made notable achievements in their research. 
Stephen Balevic
Stephen Balevic, MD, PhD, MHS, is an assistant professor of medicine and pediatrics at Duke University, the associate director of pharmacometrics at the Duke Clinical Research Institute, and the assistant scientific director for the Childhood Arthritis and Rheumatology Research Alliance (CARRA) Registry. His research interests are in precision medicine and drug trials with a special emphasis in vulnerable populations. He has been principal investigator on several PK/PD studies supported by NIH, FDA, and private foundations. His research has improved clinical care by providing evidence-based dosing recommendations for several drugs in children and pregnant patients. To further advance his mission of optimizing clinical trial design and dosing in vulnerable populations, he has served as Scientific Advisor to the US Food and Drug Administration, Office of Pediatric Therapeutics.
Balevic is also a quadruple board-certified Adult and Pediatric Rheumatologist. He completed his medical degree at Marshall University, followed by residency training in Internal Medicine and Pediatrics at the Medical University of South Carolina, and dual subspecialty training in Rheumatology at Duke University. He then completed a PhD in Pharmaceutical Sciences from the University of North Carolina at Chapel Hill School of Pharmacy.