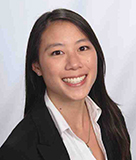 Lauren Covert, MD
Third Year Rheumatology Fellow
I grew up in Pennsylvania and went to undergrad at Duke University. After working for several years in marketing in Washington, DC, I went to medical school at Georgetown before completing internal medicine-pediatrics residency at UC San Diego. I am very excited to be back at Duke, pursuing pediatric rheumatology fellowship. I chose Duke because of the diverse patient population, unique specialty clinics, and supportive feel of the peds rheum department as a whole. In my free time, I love spending time with my husband and young son, doing yoga, cooking and outdoor exploring.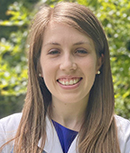 Caitlan Swaffar, MD
Third Year Rheumatology Fellow
I moved around a lot as a child but consider Virginia my home. I went to undergrad at Virginia Tech (Go Hokies!) and medical school at VCU in Richmond. I then moved to North Carolina to complete pediatrics residency at UNC and am extremely thankful and excited to be staying in the area for pediatric rheumatology fellowship at Duke! When I'm not working, I love to travel or just spend time outdoors going hiking and exploring all the Triangle has to offer.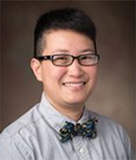 Yike Jiang, MD, PhD (preferred pronouns: she/her)
Second Year Rheumatology Fellow
I was born in China and grew up in the UK and Canada as a kid. I went to undergrad at University of Maryland and earned my MD/PhD from Geisel School of Medicine at Dartmouth. I completed my residency at Baylor College of Medicine / Texas Children's Hospital, and I am excited to be at Duke for fellowship. My research interests are post-infectious inflammatory and autoimmune diseases, especially autoimmune encephalitis. I'm also interested in the application of machine learning in rheumatology. I'm a fan of traveling, virtual reality, ultimate frisbee, badminton, and fostering kittens.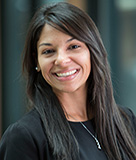 Dahima Cintron-Lopez, MD
​Combined Adult and Pediatric Fellow
First Year Rheumatology Fellow
Born in Chicago and later raised in the Puerto Rico mountain range, I have had a dynamic upbringing. After a few years in the midwest, and then staying in Puerto Rico for undergraduate, medical, and Med-Peds residency training, I am excited to venture out to North Carolina and pursue combined pediatric and adult rheumatology at Duke. I chose Duke because of the great relationship between both adult and pediatric rheumatology departments, strong lupus research, and encouraging mentors. I aim to explore the transition to adult care and reproductive health in lupus. For my hobbies, I  am a fervent long-distance runner and nature lover!  
Select Past Fellows
Name: Rachel Randell, MD
Fellowship Completed: 2023
Current Position: Assistant Professor of Pediatrics, Duke University Medical Center
Name: Mary Buckley, MD
Fellowship Completed: 2021
Current Position: Assistant Professor of Pediatrics, Duke University Medical Center
Name: Laura Cannon, MD
Fellowship Completed: 2021
Current Position: Attending, University of North Carolina at Chapel Hill
Name: Katherine Kaufman, MD
Fellowship Completed:  2020
Current Position:  Combined Medicine and Pediatric Rheumatology Practice, New Bern, NC
Name: Cory Stingl, MD
Fellowship Completed:  2019
Current Position:  Medical Instructor in the Department of Pediatrics (Rheumatology), Duke University Medical Center
Name: Steven Balevic, MD
Fellowship Completed:  2018
Current Position:  Assistant Professor of Pediatrics and Medicine (Rheumatology), Duke University Medical Center
Name: Rebecca Sadun, MD, PhD
Fellowship Completed:  2018
Current Position:  Assistant Professor of Medicine (Rheumatology and Immunology) and Pediatrics (Rheumatology), Duke University Medical Center
Name: Angela Bryan, MD
Fellowship Completed:  2016
Current Position:  Lieutenant Colonel and Pediatric Rheumatologist, Madigan Army Medical Center, Tacoma, WA
Name: Laura Lewandowski, MD
Fellowship Completed:  2016
Current Position:  Clinical Fellow, Systemic Autoimmunity Branch, NIH / National Institute of Arthritis and Musculoskeletal and Skin Diseases
Name: Elisa Wershba, MD
Fellowship Completed:  2015
Current Position:  Pediatric Rheumatologist, Phoenix Children's Hospital
Name: Eveline Wu, MD
Fellowship Completed:  2014
Current Position:  Clinical Assistant Professor of Pediatric Allergy, Immunology, and Rheumatology, University of North Carolina-Chapel Hill