The Duke Pediatric Division of Nephrology has a three-year fellowship program that is fully accredited by the American Council of Graduate Medical Education (ACGME).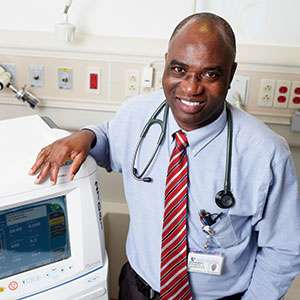 In addition to training outstanding clinical nephrologists, our education goal is to train future physician-scientists and academic leaders in pediatric nephrology.
Our division is actively involved in multiple clinical and basic/translational research projects and holds a number of grants. We are active members of the Midwest Pediatric Nephrology Consortium.
Dr. Shashi Nagaraj is actively researching the identification of genetic causes of renal disease and other undiagnosed disorders through the Undiagnosed Diseases Clinic.
Dr. Rasheed Gbadegesin is actively researching the genetics of nephrotic syndrome and has discovered a number of new gene mutations responsible for kidney disease in children. He is also involved in discovering genetic mutations responsible for vesicoureteral reflux and other congenital renal and urinary anomalies.
Dr. John Foreman is involved in clinical trials focusing on the safety and efficacy of antihypertensive medications in children and adolescents. He is also involved in treating children with atypical HUS and CKD.
Dr. Annabelle Chua is actively involved in national collaborative studies working to improve the care of children with chronic kidney disease as well as clinical trials involving CKD in children.
Fellowship Application Timeline 
(for fellowships beginning July 2021)
We accept only applicants who have completed a pediatric residency in the United States or Canada. All highly-qualified applicants, regardless of nationality, who have completed a pediatric residency in the United States or Canada are encouraged to apply.
August 12, 2020: ERAS Season 2020--July application cycle programs start receiving applications. 
September 23, 2020: Match opens at 12:00 p.m. (ET).
December 2, 2020: Rank order list certification deadline at 9:00 p.m. (ET).
December 16, 2020: Match Day at 12:00 p.m. (ET)!
Contact Information
Shashi Nagaraj, MBBS, MD
Professor of Pediatrics
Chief, Division of Pediatric Nephrology
Fellowship Program Training Director
Box 3959 DUMC
Durham, NC 27710
919-684-4246
919-684-6616 fax
shashi.nagaraj@duke.edu
Fellowship Program Coordinator
Kristin Johnson
Fellowship Program Coordinator
Box 2739 DUMC
Durham, NC  27710
919.681.4658
919.660.2041 fax
kristin.t.johnson@duke.edu