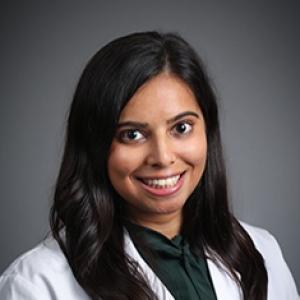 Resident
Start Year: 2020
Basics
Hometown
Franklin Lakes, NJ
Where did you attend college/university?
Boston University
Where did you attend medical school?
New York Institute of Technology College of Osteopathic Medicine
Reflections on the Duke program
What were you looking for in a residency program?
Passionate attendings/leadership, collaborative culture within program, nurturing environment.
What are the strengths of the Duke program?
There is a very strong teaching curriculum and system in place. Everyone cares about teaching and will take the time to explain a pearl relevant to the rotation you are on.
Personal interests
What do you like to do outside of work?
Hiking, cooking for family/friends, trying new restaurants, working out, traveling (pre/post- Covid).
What is something interesting/surprising about you?
Just traveled to Dubai a few months ago and got to spend time with some camels—it was wonderful!