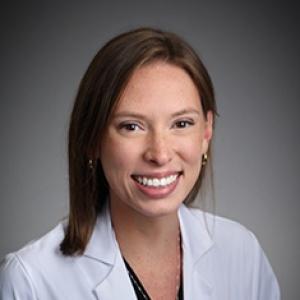 Resident
Start Year: 2021
Basics
Hometown
Nashville, TN
Where did you attend college/university?
Wake Forest University
Where did you attend medical school?
University of Tennessee Health Science Center College of Medicine
Reflections on the Duke Program
What were you looking for in a residency program?
I was primarily looking for a medium-sized program where I felt like they prioritized you as a person and not just an employee. During my interview, I felt like the residents were clearly friends with one another. I really liked how they related to one another during morning report. That was important to me to feel like a part of a program. Finally, I wanted to continue to pursue lots of research during my residency and the Duke Pediatric Research Scholars program was very enticing to me. I was able to join the program since starting at Duke and I'm really happy with this decision.
What do you want to get involved in at Duke that particularly interests you (i.e. committees, research, interest groups, QI, etc.)?
I have joined the Duke Pediatric Research Scholars program since starting at Duke. I plan to conduct heme/onc research during my time here. I'm very grateful to have the support and benefits of this program.
About Duke and Durham
What's best about living in Durham and the Triangle?
The area I live in is very walkable. I love being able to walk to dinner or just have an evening stroll outside after work. I also prefer to be outdoors if at all possible. There is great access to hiking around Durham and the beach isn't too far either!
What do you like to do outside of work?
I love to backpack, hike, or basically anything outdoors. I love to travel and try new things! I also love to bake and spend time with my loved ones.