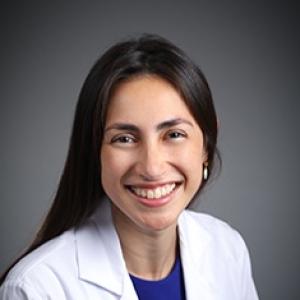 Resident
Start Year: 2020
Basics
Hometown
Richmond, VA
Where did you attend college/university?
University of Virginia
Where did you attend medical school?
George Washington University
 
Reflections on the Duke program
What were you looking for in a residency program?
When searching for a residency program, it was important for me to find a place where I felt both supported and challenged. From my interview day, it was clear that the program leadership was invested in knowing me, my interests, and how they could help me grow into the type of doctor I want to become. It was also very important to me to find a program that had a strong sense of community within the resident class! Lastly, I was looking for a program that would allow me to learn from subspecialists and participate in complex, high acuity care. In addition to finding a program that met my academic interests, it was important for me to be near my significant other who is a Marine pilot stationed out of MCAS Cherry Point!
What are the strengths of the Duke program?
The class size is one of the biggest strengths of the Duke program! It is small enough where I know all my co-interns, and have gotten to meet their partners, families, and pets! It made the transition to living in a new city easier knowing that I had a built-in community here in Durham.
Personal interests
What do you like to do outside of work?
I enjoy being active and getting outside! When able, I love going to a studio cycling or barre class. Since moving here, I have taken a few weekend trips to the Crystal Coast. There I have enjoyed kayaking on the sound, exploring the local seafood scene, and fishing (or at least trying to)!
What is something interesting/surprising about you?
I listen to podcasts almost every day! I start my mornings by listening to NPR while making breakfast. I will typically play another while cooking or going on an evening run. I actually find it easier to run to a podcast or audiobook than music! Some of my favorites are Healthier Together, As A Woman, and Charting Pediatrics.