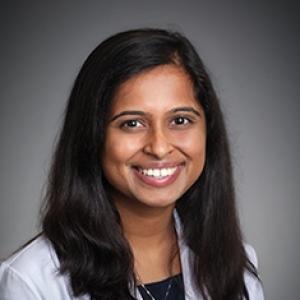 Resident
Start Year: 2021
Basics
Hometown
Cupertino, CA (Bay Area)
Where did you attend college/university?
University of California, Berkeley
Where did you attend medical school?
Case Western Reserve University School of Medicine
Reflections on the Duke Program
What were you looking for in a residency program?
I was looking for a program that had strong academic cardiology and research opportunities that would also train me to become a community-oriented pediatrician for a diverse patient population. I was also excited about finding a program where residents were close with each other, and loved that Duke's medium-sized program allowed for us to get to know each other (very early on in intern year!) while also having a large enough program that would make it easier on the logistic front if we needed to find someone to switch schedules with, etc. I was also looking for a program that prioritizes resident well-being with program leadership that felt approachable, and I am so thrilled to have Mia as our program director. She is incredibly kind, hilarious, and someone you would not hesitate to reach out to.
What do you want to get involved in at Duke that particularly interests you (i.e. committees, research, interest groups, QI, etc.)?
Research! The DPRS (Duke Pediatric Research Scholars) program is a phenomenal way to get involved in research during residency, offering protected research time and strong mentorship. And he faculty here at Duke are so ready and eager to jump in to be your mentor and advocate for your success.
About Duke and Durham
What's best about living in Durham and the Triangle?
The Triangle area and North Carolina in general is so so gorgeous. It is incredibly green here, and I absolutely love that I can just walk 10 minutes from my apartment to get to the beautiful Sarah P Duke Gardens, or drive 10 minutes out to Eno River State Park. And of course, there's the beaches and the mountains whenever you've got some extra time off.
What do you like to do outside of work?
In my free time, I love spending time with my family, reading literally anything and everything fiction, traveling, and cooking and trying out new restaurants. I also enjoy exploring nature and new hiking spots (and there is just SO much to do here with Asheville and the mountains to the west and the beaches to the east).
What is something surprising/interesting about you?
A fun fact about me is that I am the biggest Harry Potter fan. I've read all 7 books about 50 times each, and tried to translate the first book into Sanskrit when I was 11. I also love learning new languages and picked up two new ones from local friends and patients when I spent a few summers in rural India.