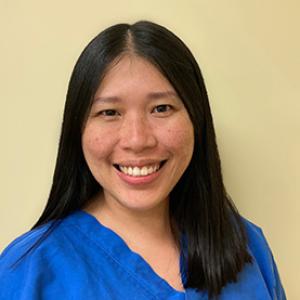 Fellow
Start Year: 2020
Basics
Hometown
Barquisimeto, Venezuela
Where did you attend medical school?
Universidad Centrooccidental Lisandro Alvarado, Barquisimeto, Venezuela
Where did you complete your residency?
University of Miami, Jackson Memorial Hospital, Florida
Who are your mentors?
Dr. Noelle Younge and Dr. Kamlesh Athavale
What are your research and career interests?
I am currently working on two projects. The first project is basic science; the title of the project is: Dysbiotic microbiome in growth failure is associated with different metabolic pathways that may contribute to postnatal low weight gain. I am also working on a quality improvement project regarding blood conservation policy in extremely premature infants in the unit.
Reflections on the Duke program
What were you looking for in a fellowship program?
I was looking for a program which was a big referral center with high acuity, so that I could get exposed to rare pathologies. A program where I would feel at home and where I could thrive and develop my full potential.
What are the strengths of the Duke program?
High acuity, different range of genetic disorders, mentors that care about you, and unlimited research opportunities.
About Duke University and Durham
What's your favorite part about living in Durham and the Triangle?
I love that it is quiet, but at the same time, there are a lot of fun things to do for every age. Everything is very close, so rarely will you hit any traffic!! It's also a perfect place to raise your family.
Honors and Awards
Scholarship award for Palliative Care course at Columbia University Irving Medical Center