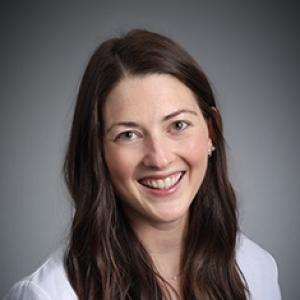 Resident
Start Year: 2020
Basics
Hometown
Waxhaw, NC
Where did you attend college/university?
North Carolina State University
Where did you attend medical school?
Edward Via College of Osteopathic Medicine
Reflections on the Duke program
What were you looking for in a residency program?
I was looking for a medium-sized program with a strong academic focus that saw a wide variety of patient cases. I also wanted to attend a program that allowed me to have exposure to many pediatric subspecialties as well as the experience of general pediatrics. Duke truly fulfills all of that. I am undecided if fellowship is in my future, but I know I will have strong foundations in both areas.
What are the strengths of the Duke program?
It may sound like a cliché, but the people at Duke are the strength of this program. After having the opportunity to complete a rotation at Duke during my fourth year of medical school, I was blown away by how welcoming everyone was. Residency is rigorous, but knowing you have great colleagues and attendings to learn from, makes all the difference. Duke also has exceptional educational, research and global health opportunities that I look forward to getting more involved with.
About Duke University and Durham
What's the best about living in Durham and the Triangle?
The Triangle has so much to offer everyone! Durham is a vibrant community with great restaurants, arts, an active downtown, Farmers' Market, the Durham Bulls, and much more! The climate is great for the outdoors, especially with the mountains and beaches just a few hours away. Also, with three universities in the area, there are even more events and activities to choose from, not to mention all of the opportunities in education, technology, and healthcare. I went to college in Raleigh and worked as an engineer in the area, so I have really come to love the Triangle. I am so happy to be back!
Personal interests
What do you like to do outside of work?
Outside of work my husband and I like to play tennis, visit local breweries, take our dog to the park, go on hikes, and go to the farmers market. We love Durham!