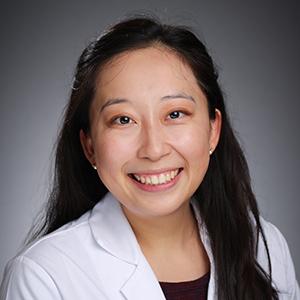 Chief Resident
Start Year: 2018
Basics
Hometown
Potomac, MD
Where did you attend college/university?
University of Maryland, College Park
Where did you attend medical school?
University of Maryland School of Medicine
Reflections on the Duke program
What were you looking for in a residency program?
Ultimately, I was looking for a community where I felt that I would be supported in my growth professionally and personally. I was looking for a residency program that would challenge me clinically and give me the foundation I needed to be a strong and compassionate physician. I wanted a program with access to mentors and resources to help me discover my "and" in medicine. As a med-peds resident, I also wanted a program that was well-integrated into strong categorical programs. 
What do you want to get involved in at Duke that particularly interests you (i.e., committees, research, interest groups, QI, etc.)?
QI


Created with a co-resident a resident-led peer-debriefing workshop for rising senior residents in the internal medicine, pediatrics, and med-peds residency programs as our QI project. Our aim was to increase resident participation and comfort in leading peer debriefs focusing on the emotional impact of a critical event. 


 
Research


Helped to lead a DEI initiative with the national Reach Out and Read (ROR) organization to help advocate for more diverse books in our ROR libraries and better understand pediatric clinician's attitudes towards having discussions about race and racism with families during well-child visits. 



Was part of the team investigating a peer-mentoring program to help empower young adults with congenital heart disease through the transition from pediatric to adult care models.
 

Committees




GME and Residency Program Resident Committees




Pediatric Resident Education Committee




Duke Med-Peds E&I Committee




Duke Department of Medicine Civility Champions 
What are the strengths of the Duke program?
We have a tight-knit community among residents. The program leadership cares about each of us personally and professionally. Duke was one of the few places on the interview trail where after my interview, I had already identified faculty who I wanted to have as mentors. There is an abundance of resources available for trainees. 
About Duke and Durham
What's best about living in Durham and the Triangle?
There are a lot of amazing local trails and lakes for outdoor activities, as well as amazing places to eat, drink, and just live life together with friends. 
What advice would you give about moving to Durham?
Start early!
Personal interests
What do you like to do outside of work?
Hiking, stand-up-paddleboarding in a nearby lake, reading (especially narratives about the Asian-American community), playing the guitar, and house-plants! 
What is something surprising/interesting about you?
I was a double major in college--biology and flute performance!