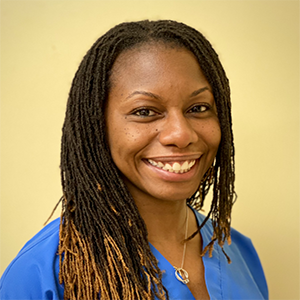 Fellow
Start Year: 2021
Basics
Hometown
Charleston, SC 
Where did you attend medical school?
Medical University of South Carolina
Where did you complete your residency?
University of Arkansas for Medical Sciences
Who is your mentor?
Dr. Rachel Greenberg
What are your research and career interests?
I'm interested in health disparities and health equity research. I would like to be involved with medical education and diversity recruitment.
Reflections on the Duke program
What were you looking for in a fellowship program?
I was looking for a supportive program that would allow me to progress clinically as well as support my research interests.
What are the strengths of the Duke program?
Duke has a lot of research opportunities not only in the neonatology department but in the entire pediatrics department.
About Duke University and Durham
What's your favorite part about living in Durham and the Triangle?
I love the weather and the variety of restaurants.
Personal interests
What do you like to do outside of work?
I enjoy working out and hanging out with friends.
Publications or Presentations
Heyward E, Clark R, Smith P, Benjamin D, Ahmad A, Blackwell C, Greenberg R. Trends in COVID-19 Diagnoses and Outcomes in Hospitalized Infants. Pediatric Academic Society Meeting, Denver, CO, 2022, Poster Presentation