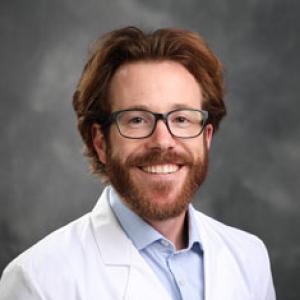 Resident
Start Year: 2018
Basics
Hometown
Madison,WI
Where did you attend college/university?
University of Colorado
Where did you attend medical school?
Oregon Health Sciences
Reflections on the Duke program
What were you looking for in a residency program?
I was looking for a medium sized program with residents that had diverse backgrounds and interests, and one that emphasized education, research, and work-life balance. Seeing myself as happy living where the program was located was also really a important aspect of my residency search.
What are you involved in at Duke that particularly interests you (i.e. committees, research, interest groups, QI, etc)?
I am part of the Duke Pediatric Research Scholars program, and am interested in the basic science of health and disease. My background is in cell biology, and I was most recently studying how chemotherapy alters metabolism in treatment-resistant cancer cells. Duke has a lot of amazing research going on across all domains, and I am excited to dig into something over the next few years !
What are the strengths of the Duke program?
In the short time I've been at Duke, the two things that stand out the most are the collegiality and dedication to teaching. All of the students, residents, faculty and staff I've met so far are really easy to get along with, and there is never a missed learning opportunity. The people here are happy and smart.
About Duke and Durham
What's best about living in Durham and the Triangle?
Durham has a lot to offer for a smaller city. There are many great places to eat, drink and be merry. There are several state parks nearby, making it really easy to get into nature. There are frequent music and art/craft festivals. It is a small enough town that everything is close by -- there's not much traffic if you drive, and it's easy to ride your bike if you want to do that. 
Personal interests
What do you like to do outside of work?
Anything that involves an outdoor adventure. I love the mountains more than I love the sea, but think they are both pretty awesome. Thankfully, North Carolina has both!
What is something interesting/surprising about you?
On a clear night you might find me in the lawn of Duke's east campus checking out planets through my telescope.
Education Leadership: