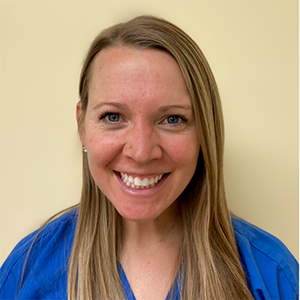 Fellow
Start Year: 2022
Basics
Hometown
Sheridan, WY
Where did you attend medical school?
University of Washington School of Medicine
Where did you complete your residency?
University of Utah
What are your research and career interests?
I am interested in perinatal/neonatal palliative care. I envision researching ways to better communicate with and support parents in values-based decision-making for periviable infantsand infantswith medical complexity.
Reflections on the Duke program
What were you looking for in a fellowship program?
I wanted a program that provided excellent, rigorous clinical training in combination with support for a fellow's specific scholarly interests. It was also important to me to find a program where the people were passionate about their work and truly enjoyed working with one another.
What are the strengths of the Duke program?
Duke goes over and above in all areas. Shortly after beginning fellowship, it is already evident that Duke upholds the highest clinical standards and trains fellows to understand and practice evidence-based neonatology. Additionally, fellows are awarded significant autonomy, as attendings are not in-house for nighttime call but always available if needed. Duke's mentorship and support for research are another major strength. People say,"if you can think it, Duke will make it happen," and they will connect you with mentors who are worldwide experts in any given area to partner with and support you in your specific interests.
About Duke University and Durham
What's your favorite part about living in Durham and the Triangle?
There are so many good restaurants and breweries, hiking and running trails, and I love the long fall and spring and mild winters.
Personal interests
What do you like to do outside of work?
I love to run, drink coffee, bake, and hang out with my husband and golden retriever named Bella.
Publications or Presentations
Peralta D, Bierer R, Moore D. Neonatologists' Perspectives on Exploring Parental Spirituality in Prenatal Consultations.2022. Manuscript submitted for publication.
Peralta D, Bierer R.Neonatologists' Perspectives on Exploring Parental Spirituality in Prenatal Consultations of High-Risk Neonates. Poster Presentation. American Academy of Hospice and Palliative Medicine Annual Assembly. April 2022. Virtual.
Peralta D, Bierer R. Documentation of Parental Spirituality in the Prenatal Consultation of High-Risk Neonates. Poster Presentation. Pediatric Academic Societies' Meeting. May 2021. Virtual.
Burns R, Gray M, Peralta D, Scheets A, Umoren R. TeamSTEPPS Online Simulation: Expanding Access to Teamwork Training for Medical Students. BMJ Simulation & Technology Enhanced Learning. 2021; 7(5): 372–378.