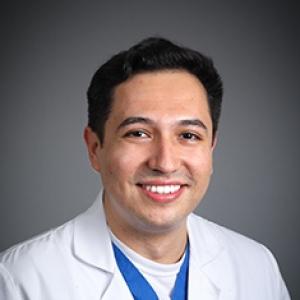 Resident
Start Year: 2020
Basics
Hometown
Guadalajara, Jalisco, Mexico and San Jose, CA
Where did you attend college/university?
Harvard University
Where did you attend medical school?
Stanford University
Reflections on the Duke program
What were you looking for in a residency program?
I was looking for a program that provided sufficient flexibility and mentorship to pursue our interests and opportunities outside of clinical medicine (research, advocacy, teaching, family responsibilities, etc.) without sacrificing the quality of training.
What are you involved in at Duke that particularly interests you (i.e., committees, research, interest groups, QI, etc.)?
I am heavily involved in multiple basic/translational research projects characterizing how chronic infections affect immune responses to vaccinations utilizing high-dimensional immune monitoring measurements and analytical tools from systems biology. I am also involved in efforts to enhance diversity in medicine and to recruit more talented individuals from underrepresented backgrounds to Duke.
What are the strengths of the Duke program?
In addition to having outstanding clinical faculty dedicated to teaching, a major strength of the Duke program is the institutional support and funding to integrate research during residency via the Duke Pediatrics Research Scholars Program, R38 Research Pathway, and the Lefkowitz Society. Additionally, the director of the Pediatric Scientist Development Program is on the Duke faculty. While there are several great pediatric residency programs for physician-scientists, none are objectively better than Duke!
About Duke University and Durham
What's the best about living in Durham and the Triangle?
The best part about living in the Triangle is the diversity. Living here, I have neighbors and interact with people of all walks of life in the community wile living my day-to-day life. Unfortunately, this was not the case in other places I have lived where communities were often more segregated based on socioeconomic factors due to high costs of living.
Personal interests
What do you like to do outside of work?
Outside of work you can find me cheering on the NC Courage and US Women's National Team, coaching my daughter's soccer team, or relaxing at home with my wife and two daughters!