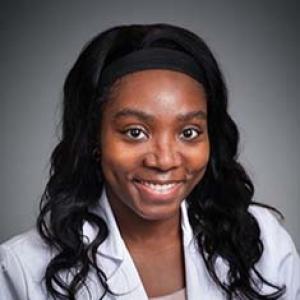 Resident
Start Year: 2020
Basics
Hometown
Virginia Beach, VA
Where did you attend college/university?
University of North Carolina
Where did you attend medical school?
Wake Forest University
 
Reflections on the Duke program
What were you looking for in a residency program?
A curriculum structure focused on providing high quality training, while also allowing for maximum individual exploration/enhancement. A program culture that is supportive of residents' career, educational, and personal needs; and is willing to respond with effective changes and continually evolve to meet this goal. An environment (work and outside of hospital living) in which I can enjoy my day to day interactions and surroundings.
What are the strengths of the Duke program?
The responsive, organized, and supportive leadership. A structured and robust curriculum with a variety of opportunities for individualization. Genuine camaraderie among residents (whether on rotation teams, in passing, or outside of the hospital). The many opportunities for professional and career development that come with being a part of this institution.
About Duke University and Durham
What's the best about living in Durham and the Triangle?
The FOOD!, diversity of people, generally nice weather, a large variety of living options, excellent entertainment/recreation, travel accessibility.
Personal interests
What do you like to do outside of work?
Exploring local dining options, spending time in nature/outdoors, being with my family and friends, relaxing by myself.
What is something interesting/surprising you?
I was an NFL cheerleader for two years during medical school.