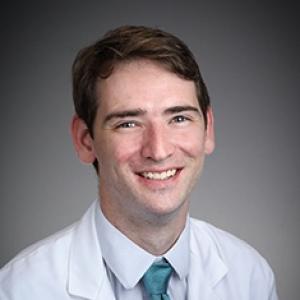 Resident
Start Year:  2020
Basics
Hometown
Springfield, KY
Where did you attend college/university?
Centre College
Where did you attend medical school?
University of Rochester
Reflections on the Duke program
What were you looking for in a residency program?
I was looking for a place where I could learn pediatrics, start a research lab, and grow a family.
What are you involved in at Duke that particularly interests you (i.e., committees, research, interest grroups, QI, etc.)?
Research! I matched into the Duke Pediatrics Research Scholars track, and (after intern year) I am planning to spend 6 months of every year in clinical training and 6 months in a basic science research lab. The research environment at Duke is outstanding, especially for those at the start of their career. The Office for Physician-Scientist Development was unique among programs I was considering, and they offer a great deal of support for transitioning from trainee to investigator.
What are the strengths of the Duke program?
Mentorship, flexibility, co-residents, and faculty.
About Duke University and Durham
What's the best about living in Durham and the Triangle?
Hiking trails everywhere, restaurants, breweries, and cost of living. Great schools if you're bringing along or thinking about a family.