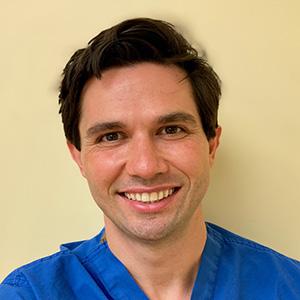 Fellow
Start Year: 2020
Basics
Hometown
Augusta, GA
Where did you attend medical school?
Mercer University
Where did you complete your residency?
Madigan Army Medical Center
Who are your mentors?
Dr. Jenn Peterson, Dr. Keyaria Gray, Dr. Lakshmi Katakam, Dr. Susan Izatt
What are your research and career interests?
Periviability, Clinical QI (Team Dynamics, Point of Care Ultrasound, Logistics Optimization)
Reflections on the Duke program
What were you looking for in a fellowship program?
Work life balance, single hospital coverage for fellows, robust diversity of pathology
What are the strengths of the Duke program?
All of the things I mentioned, especially work life balance. Research support with the NPRU. If you can dream it up, there are resources available at Duke to not only support you but mentor and guide you as well.
About Duke University and Durham
What's your favorite part about living in Durham and the Triangle?
Amazing food, great small town feel with amenities of a progressive city. Easy day and weekend trips to the most beautiful beaches and mountains.
Personal interests
What do you like to do outside of work?
Forage, barbecuing, fermentation, growing my post-army mullet (recently deceased)
Honors and Awards
Feagin Leadership Scholar Program; and my wife thinks I'm great.
Publications or Presentations
Adams W, Malcolm W, Goldstein R, et al. Longitudinal Medical Needs for Periviable NICU Survivors. Early Human Development,169:105580,Jun, 2022.
Adams W, Malcolm W, Goldstein R, et al. Longitudinal Medical and Developmental Needs for Periviable NICU Survivors. Poster Presentation. 2022 AAP National Conference and Exhibition, October 2022; and Duke Department of Pediatrics 2022 Research Retreat, April 2022.
Adams W, Kwak C, Liberio B. Academic Section Chief Virtual Job Search Series. Moderator. Trainee and Early Career Neonatology. AAP. June 2021.
Adams W. Adverse Childhood Experiencesand the Military Family. Keynote Speaker, Eastern Virginia Medical School 2019 Joint Mental Health Conference, May 2019.
Adams W, Telsey B. ACEs in Uniform: The Intersection of ACEs, the Military, and Civilian Life. Plenary Presentation, 2018 ACEs Conference, October 2018.
Adams W, Telsey B. Implementation of Annual Screening for Adverse Childhood Experiences (ACEs) for Military Children Aged 1-18. Poster Presentation, 2018 Pediatric Academic Societies Meeting, May 2018.
Mitchell L, Adams W. Episodic stiffness in a 30-month-old girl. Pediatrics in Review,38(1):52-53, Feb 2017.
Adams W. USFK Smallpox Vaccination Program. Plenary Presentation, 66th Annual 38th Parallel Healthcare Training Symposium, November 2016.
Adams W, Mitchell L, Candelaria-Santiago R, et al. Concurrent Ulcerative Colitis and Neurofibromatosis Type 1: The Question of a Common Pathway. Pediatrics,137(2):e20150973, May 2016.