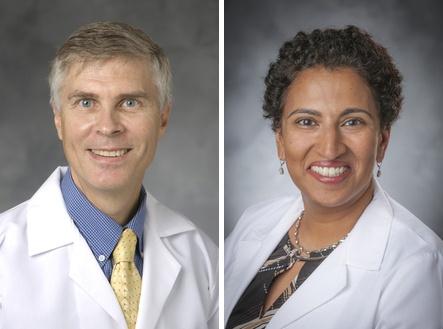 Emmanuel (Chip) B. Walter, MD, MPH, pediatric infectious diseases specialist, is principal investigator on a clinical trial for a SARS-COV-2 (COVID-19) vaccine. Geeta Swamy, MD, maternal-fetal medicine specialist, is co-investigator. Recruitment is now underway for vaccine candidate selection among healthy adults. The national study is a Phase 1/2/3, randomized, placebo-controlled, observer-blind, dose-finding clinical trial. The study is seeking 32,000 healthy adult participants between the ages of 18 and 85. At Duke, approximately 50 participants are needed. Collaborators are  BioNTech SE and Pfizer.
The study will evaluate the safety, tolerability, immunogenicity, and efficacy of 3 different SARS-CoV-2 RNA vaccine candidates against COVID-19:
As a 2-dose or single-dose schedule
At up to 3 different dose levels
In 3 age groups:18 to 55 years of age, 65 to 85 years of age, and 18 to 85 years of age
The study consists of 3 stages. Stage 1: to identify preferred vaccine candidate(s), dose level(s), number of doses, and schedule of administration (with the first 15 participants at each dose level of each vaccine candidate comprising a sentinel cohort); Stage 2: an expanded-cohort stage; and Stage 3: an efficacy stage.
Other details:
Full Title: A Phase ½ Placebo-Controlled Randomized, Observer Blind, Dose-Finding Study to Describe the Safety, Tolerability, Immunogenicity, and Potential Efficacy of SARS-COV-2 RNA Vaccine Candidates Against Covid-19 in Healthy Adults
Award Amount: $4,074,183
Actual Study Start Date: April 29, 2020
Estimated Primary Completion Date: June 28, 2021
Estimated Study Completion Date: January 23, 2023
IRB: PRO00105644
NCT: NCT04368728
In addition to the Pfizer study, Duke will be starting another trial in August, sponsored by the National Institutes of Health, which will enroll 1,000 people at Duke, and which will be part of total sample size of 30,000.